Apple stops online sales in Russia as the ruble drops to new lows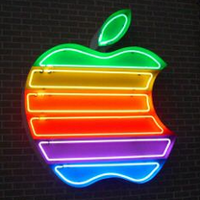 Apple has stopped online sales in Russia as the sharp decline in the ruble has led to a financial crisis in the country. On Tuesday, the Russian currency collapsed as much as 20% against other currencies, despite efforts by Russia's Central Bank to stop the decline. Economics 101 calls for hikes in interest rates as a way to attract buyers to a free-falling currency, and the Russian Central Bank hiked rates sharply. The ruble has declined 60% this year.
Foreign companies doing business in Russia, like Apple, are finding that the rubles they collect from Russians purchasing their wares, are worth a lot fewer dollars when converted. As a result, proper business doctrine would suggest that Apple raise the prices of the devices it sells on its Russian online store. For example, last month Apple raised the price of the
Apple iPhone 6
by 25% in Russia.
With the ruble declining so sharply, Apple would need to keep reviewing the pricing on its online store in Russia to prevent it from taking currency losses on its sales. Instead of changing prices numerous times a day, Apple came to the decision that it is in its best interest, and the best interests of its customers, to just halt sales for the time being. Otherwise, Apple would have to price itself out of the market in Russia.
"It's a fact of life if the U.S. dollar strengthens, that creates a headwind for us both in revenue and margins for our business outside of the United States. We have a comprehensive hedging program in place that mitigates the impact of foreign exchange. Over time, of course, these hedges roll off and get replaced by new hedges at new spot levels, and so the protection that you get from a hedging program is temporary."-Luca Maestri, CFO, Apple

"Our online store in Russia is currently unavailable while we review pricing. We apologize to customers for any inconvenience."-Alan Hely, spokesman, Apple