Apple set to shift 53 million iPhones in Q2, while Apple Watch demand remains "healthy"
43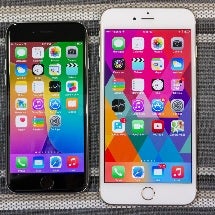 Apple is on track to have sold 53 million iPhones by the end of the June quarter, according to stats produced by Morgan Stanley through its AlphaWise Trackers. Shared by the folks at AppleInsider, the 53m estimate is underpinned by increasing interest from China, a nation that Apple has continually focused upon in recent times. As the iPhone continues to sell strongly, there have been murmurings that the
Apple Watch
is
falling below general expectation
, with Apple's lack of published sales figures only fanning the flames. But according to Morgan Stanley, demand for Cupertino's first wearable gadget is still at a
"healthy"
level.
While initial demand during the first week of Apple Watch's sale was only half that of the original iPhone, the deceleration of Apple Watch uptake has been more gradual. Currently, demand is said to be stabilizing at a level 20 per cent above that of the inaugural Apple smartphone. But there remains a general notion that smartwatches in general -- aside from, it would seem,
the Pebble
-- are ahead of their time just now.
Morgan Stanley's Katy Huberty believes that suppliers building the next-gen iPhone are expecting similar shipment figures year-on-year versus the
iPhone 6
. Should Apple, as expected, keep the current flagship on sale at a cheaper price of around $99 on-contract, Huberty expects there to be a strong interest in the older model once the newer variant has hit the scene.
Simply put, the "iPhone 6s" era should generate similar sales and shipment numbers to that of its predecessor, largely because it's an 's' model rather than a number upgrade. If, instead, it was a redesigned handset billed as the "iPhone 7", Morgan Stanley and the rest of Wall Street would almost certainly be singing a different tune.
On the topic of the Watch, Huberty notes that
"it could take some time for users and developers to find more compelling use cases for the Watch,"
which seems to echo the general consensus of the tech community. A pretty gadget with largely fluid functionality, it doesn't yet offer that
must-have
appeal. But with devs soon able to submit standalone apps and rumors of
Apple Watch 2
already in
motion
, those touting its demise may be premature in their assertions.