Lagging Apple Watch demand leads KGI to slash shipping estimates in half
97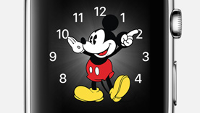 KGI Securities, home to Apple-connected analyst Ming-Chi Kuo, says that the Apple Watch has not been in as much demand as it originally thought it would be. This has led the securities house to slash its estimate of Apple Watch shipments for the year by as much as 50%. Previously, KGI told clients to expect Apple to ship between 20 million and 30 million smartwatches for the year. Now, KGI is telling clients to expect Apple to ship less than 15 million units of the Apple Watch for 2015.
The research note sent out by KGI also said that Apple's supply of the Taptic Engine used on its watch should start picking up later this month. The part is used to create a tapping feeling on the wrist of an Apple Watch user as a reminder or an alert. A vibration motor is used to move a small rod back and forth to create the tapping sensation. The Taptic Engine is also used to send the user's "heartbeat" to others wearing the timepiece. Problems with the vibration motor caused a bottleneck in the supply chain
which led to a production shortfall for the Apple Watch
.
But KGI notes that shipping dates for the Apple Watch have dropped back to June, and since this can't be pinned yet on increased production of the Taptic Engine (remember, that won't take place for another week or so), the obvious conclusion is that demand for the Apple Watch has been sliding. Thus, the firm has cut its shipping estimate for the product.
The securities firm has also discovered that 80% of the Apple Watch orders have been for the larger 42mm model. In the note it disseminated to its clients, KGI says that it assumes that men are ordering the larger variant of the intelligent watch while women are purchasing the 38mm model. While it is a generalization, the numbers can be used to determine that you are much more likely to find the device on the wrist of a man than on the wrist of a woman.
source:
9to5Mac
via
GSMArena
Recommended Stories