Apple sends out letter to neighbors of its future spaceship HQ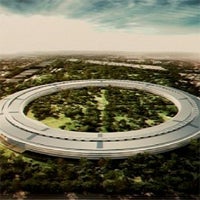 Apple's CFO, Peter Oppenheimer, has now sent out brochure to those that will neighbor the new facility and is soliciting feedback. The catch? None of it will ever be open to the public.
According to the letter, this campus will not replace the one at 1 Infinite Loop, rather it will be home to 13,000 employees and be used as a "research facility" and office space. Probably the most important information for those that live nearby is that it will obtain LEED certification and will not have any manufacturing or heavy industrial activity onsite. Apple plans to start occupying this building in 2015. It will begin construction after Cupertino approves changes made to the plans, which will probably occur later this year.
This campus will not be open to the public in anyway, unlike the company store at 1 Infinite Loop that anyone can go to. After informing the residents that they will never be allowed inside, the letter details that the "world class" auditorium will be housed at the southern tip and the corporate fitness center/recreation center will north west of the main building.
The brochure comes complete with a postage paid response card and invites neighbors to use the card or go to Cupertino.org to respond with comments, questions, and concerns.