Watch Steve Jobs pitching a new futuristic Apple HQ in front of Cupertino City Council
39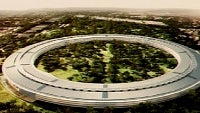 With just a few hours warning, Apple's CEO Steve Jobs appeared the other day in front of the Cupertino City Council to pitch the architectural design of Apple's new stomping grounds.
The renders revealed a
futuristic circular building
, at the same time reminiscing a Roman arena (without the gladiator pit). Steve Jobs himself acknowledged it looks a bit like a spaceship.
The arenalike structure is four stories high, and is taking 180 acres of property that Apple has been buying since 2006 north of Interstate 280, mostly from Hewlett-Packard. The new headquarters will house 12,000 employees, and has been designed by the famous architect Sir Norman Foster.
The windows themselves are all curved, shaping the building as a dome: "
I think we do have a shot at building the best office building in the world. I really do think architecture students will come here to see this. I think it can be that good.
", said Steve Jobs.
Needless to say the City Council at the small California town were psyched about the proposition, as it will be one of the iconic buildings not only in the state, but in the world as well. '
Wow!' is the operative term. There's nothing like it. And while some people might wonder why a CEO would get so involved at such a level of detail around a company headquarters, with Steve, it's not surprising at all. He's an integral part of Apple's product design, and this building is just their latest product.
", was Councilman Orrin Mahoney's reaction.
If the project passes in front of the Cupertino City Council, and the above quote says it most likely will, not to mention that Steve Jobs reminded how Apple is the biggest taxpayer there, we can expect an expansion from the current HQ at Infinite Loop to the new building in 2015. Apart from its cool architecture, the project has been conceived as one of the greenest buildings of that scale. Have a look at Apple's CEO pitch in front of the City Council and the slides.
source:
CupertinoCityCouncil
&
SiliconValleyMercuryNews