Apple to build off-site restaurant for secret chats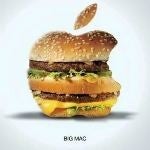 We've known for a while that Apple loves to be very secretive with its products. Not so secret enough as to not give anything to the rumor mill, of course, but secret enough so that you never quite know what the truth actually is. The trouble is that employees like to occasionally leave the Apple campus in order to eat lunch. Now, Apple has a solution: an official off-campus restaurant strictly for employees.
The plans for the restaurant were approved by the Cupertino Planning Commission on Tuesday. The restaurant will be just under 21,500 square feet, which is quite large, but in addition to the cafeteria, it will also house a meeting room, lounge areas, and courtyard facilities. It will be located a short walk from the current Apple campus (no word on what will happen to this property after the
Apple spaceship
is built) and will have a 70 space parking lot.