Apple sells out the Apple iPhone 4S, new orders now ship in 1 to 2 weeks
99+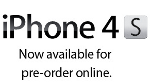 Recession? What recession?
Apple executives can't be blamed for thinking that the sun rises on Cupertino every day following news that the company has already sold out of its initial shipment of the Apple iPhone 4S.
Letdown? What Letdown?
The news of the sellout is like Apple sticking its tongue out to all those who felt that the introduction of the Apple iPhone 4S lacked the event's usual "panache" and felt that
sales would lag because of the limited improvements made
over the current Apple iPhone 4.
While many had expected Apple to rollout a totally redesigned Apple iPhone 5 with a larger 4 inch+ screen to match recent Android models, the Apple iPhone 4S looks exactly like the Apple iPhone 4
with some Android-influenced changes
. For example, the single-core A4 processor has been replaced by a dual-core A5. The 5MP camera is gone, replaced by an 8MP shooter and the iPhone 4S offers the Siri Voice Recognition system which expands upon the current Voice Recognition system found on Android.
AT&T late Friday
reported a record pre-order of 200,000 units
, and Sprint's web site says that the carrier has sold out of the 16GB model. As of Saturday morning, the web site still shows the 32GB and 64GB models available for pre-order at the nation's third largest carrier, while the 16GB model will still be in stores on October 14th. At Verizon, the 16GB version of the Apple iPhone 4S in black or white now shows a delivery date of October 21st, one week after the launch date. All other models show a delivery date of October 14th. With all this demand, Wall Street analysts
now expect a record breaking launch
by the new iteration of Apple's touchscreen phone.
source:
AppleInsider