Apple applies for new trademark on its multi-color rainbow logo
4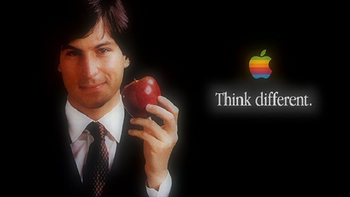 Apple has filed an application with the USPTO seeking new trademark protection for its retired multi-color rainbow logo. Introduced back in 1977, some 30-years before Steve Jobs introduced the original
Apple iPhone
, the logo was put out to pasture after 22-years. Apple once again applied for the trademark in the U.S. in December, and the application is currently being looked at by an examiner.
The filing states that Apple plans on using the rainbow logo on hats and caps, and while it would seem preposterous to see Apple branch out into haberdashery, the company often files new trademarks on an intent to use basis even if it doesn't intend to use it at all. This allows Apple to have trademark protection for one of its logo designs. Actually, we shouldn't be quick to poo-poo the idea that Apple would put the logo on caps and shorts. After all, Apple already sells shirts with the rainbow logo design at its store in Apple Park.
"The mark consists of the design of an apple with a bite removed, with a detached leaf in green, and the apple divided into horizontal colored segments of the following colors (from top to bottom): green, yellow, orange, red, violet and blue."-Apple, from its USPTO application
The idea for the rainbow logo reportedly came from Steve Jobs. The late Apple CEO wanted to show off all of the colors that could be produced by the Apple II, and as a result he added the rainbow pattern to the Apple logo.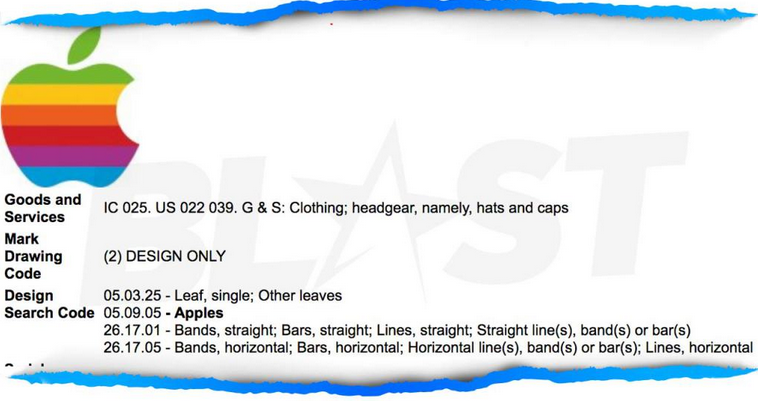 Apple files with the USPTO seeking trademark protection for its retro-rainbow logo
via
The Blast
,
AppleInsider