Apple says difference in the battery life of TSMC and Samsung made A9 chips is only 2% to 3%
60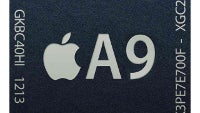 Amid talk that the A9 chipset produced by TSMC offers much more battery life than the one manufactured by Samsung, Apple released a statement this afternoon that says the difference in battery life between the two chips on the
Apple iPhone 6s
and
Apple iPhone 6s Plus
is no more than 2% to 3%. Samsung's version of the A9 chip is made using the 14nm FinFET process, while TSMC uses the 16nm FinFET process. Both companies have produced Ax series chips for the iPhone and the iPad in recent years.
Apple says that the 2%-3% difference is within the tolerance that is acceptable between two iPhone models, even if they had chips made by the same manufacturer. Which means that if the guy next to you is holding the same exact iPhone you own, and says that his battery life is running 3% longer than yours is, you have no complaint with Apple.
However, a Geekbench battery test revealed that an Apple iPhone 6s powered by the TSMC version of the A9 would provide 1 hour and 5 minutes more battery life than the same model containing Samsung's version of the chip. In addition, the TSMC powered iPhone 6s produced a slightly higher AnTuTu score than an iPhone 6s powered by Sammy's A9. After the two phones went through the AnTuTu test the same number of times, the Samsung powered unit had less battery life remaining (71%) than the iPhone 6s with the TSMC chip inside (77%). That 6 percentage point difference is more than double the 3% variance that would be acceptable to Apple.
"With the Apple-designed A9 chip in your iPhone 6s or iPhone 6s Plus, you are getting the most advanced smartphone chip in the world. Every chip we ship meets Apple's highest standards for providing incredible performance and deliver great battery life, regardless of iPhone 6s capacity, color, or model.

Certain manufactured lab tests which run the processors with a continuous heavy workload until the battery depletes are not representative of real-world usage, since they spend an unrealistic amount of time at the highest CPU performance state. It's a misleading way to measure real-world battery life. Our testing and customer data show the actual battery life of the iPhone 6s and iPhone 6s Plus, even taking into account variable component differences, vary within just 2-3% of each other."-Apple statement
Of course, you can't truly go with benchmark tests to determine if one A9 chip offers a longer battery life than another. Real world results would probably be different, and could fit within Apple's acceptable tolerance range. By the way, earlier today
we showed you a way to discover if you have a TSMC or Samsung made A9 chipset
powering your Apple iPhone 6s, or
Apple iPhone 6s Plus
. No matter which chip you have in your new iPhone, Apple says that you are getting the same experience as others toting your model. After all, a 3% difference on a phone running 6 hours would be an extra 11 minutes, which is not enough extra battery life to lose sleep about.
source:
MacRumors
,
TechCrunch