Apple says Kindle Fire is actually good for them
23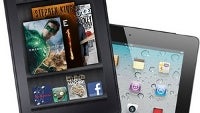 When the
Amazon Kindle Fire
was announced a couple of weeks ago carrying a price tag of only $200, for the first time we thought that the iPad really has gotten some competition.
The Kindle Fire is smaller at 7 inches, but offers a dual-core processor and a heavily modified Android that make it desirable.
Now, you might expect Apple to be challenged, but CFO Peter Oppenheimer actually said the Fire was good for the iPad. How come? Here's what Barclays published based on an interview with Oppenheimer:
"While the pricing at $199 looks disruptive for what seems to be the iPad's most important rising challenge, the Amazon Fire – it is important to note that it could fuel further fragmentation in the tablet market—given it represents yet another platform. While compatible with Android, the Apps work with Amazon products.
The more fragmentation, the better, says Apple, since that could drive more consumers to the stable Apple platform.
We believe that Apple will get more aggressive on price with the iPad eventually but not compromise the product quality and experience."
Now, that seems a bit arrogant of Apple, doesn't it? Could it be that the company is being pre-emptively defensive about what could actually turn out to be its main tablet competitor? We leave up to you the decision, but while it's obvious that Fire is very different than other Android tablets in terms of the UI, we find it hard to believe that this one Android could actually be bringing instability to Android.
There's one thing about the Kindle Fire, though. We have been somewhat blindly speaking about it as Amazon hasn't allowed the press to actually work with the device, and that brings concerns about possibly flawed responsiveness and who knows what else. Hopefully, Amazon will straighten all those rough edges (if they exist) prior to the
November 15th launch
, and from there on, the numbers will tell their tale.