Apple running into iPhone screen supply issues?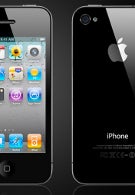 Rodman & Renshaw's analyst Ashok Kumar issued a research note warning that LG Display Co., which makes the so-called Retina displays for the new
iPhone 4
, might face production limitations due to the enormous demand. The preorder campaign in the US was not
without mishaps
, but paved the way for iPhone 4 shipment delays with its 600k units sold off in a matter of days. A similar situation is unfolding in Japan, where Softbank, Apple's exclusive carrier, has already put preorders for the hot commodity on hold, as they feel they may outrun their allotted supply.
The New York based analyst's check with the component suppliers revealed that Apple has cut the number of iPhone units it is able to produce monthly by half, from four to two million. The critical period where iPhone shipments might get delayed due to not enough screens supplied (what happened with the iPad's international launch), may start in September, according to the analyst.
If
the Apple iPhone 3GS
marks a bigger drop in demand than expected, the company will have to ramp up the iPhone 4 screen production. In October and November that might lead to supply shortages, which were thought to be ironed out by LG Display Co., with normal production being resumed around December. We've no choice but take the wait-and-see approach on the issue.
source:
BusinessWeek