Apple revises Tim Cook's option deal to reflect stock price drop
19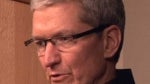 Investors in Apple have been taking it on the chin ever since the day the
Apple iPhone 5
was launched last September. That was the day that Apple briefly traded over $700. Since then, it has been all downhill for the stock which is currently trading at $413. If you've taken a hit in the wallet or pocketbook thanks to Apple's declining stock price, let it be known that Apple's board feels your pain. As a result of the decline in the stock, it has revised the pay package belonging to CEO Tim Cook.
Under the new plan, should Apple's shares outperform the market over the next 8 years, Cook will get to keep the 1 million Apple shares that originally he was to receive regardless of how the stock fared. But if Apple underperforms the market over the same time period, the board could take away
40% of the shares
. In August 2011,
when Cook received the pay package, the 1 million share were valued at $383 million
. Last September, they were valued at more than $700 million. Today, the shares are worth $413 million.
Despite the revision to his pay package, Tim Cook still has the
full support
of Apple's board, according to a document filed with the SEC. The executive himself asked Apple to put more of his pay at risk. Consider that his pay package has no upside to it. If Apple goes on to outperform the broad market over the next 8 years, Cook will receive the 1 million shares he was promised and not a share more.
source:
AllThingsD