Apple removes 25,000 gambling apps from the Chinese App Store
2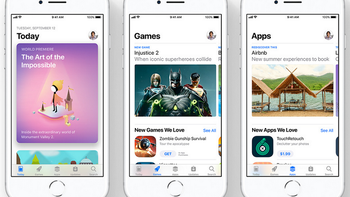 A report broadcast Sunday from Chinese state-run television claims that Apple removed 25,000 apps from the Chinese version of the App Store. According to China's Ministry of Industry and Information Technology, there are over 1.8 million apps in the country's App Store. While Apple didn't confirm the removal of the 25,000 apps, if it did remove that amount it would be equivalent to 1.4% of the total number of apps it offered.
Apple did release a statement today that hinted at the kind of apps that it removed. The tech giant said that gambling apps are illegal in the Chinese version of the App Store, and that the company has been "vigilant in its efforts" to remove such apps from the store. Last month, we told you that iPhone users in China were getting
swamped by spam texts in the Messages app from shady online casino websites
.
"Gambling apps are illegal and not allowed on the App Store in China. We have already removed many apps and developers for trying to distribute illegal gambling apps on our App Store, and we are vigilant in our efforts to find these and stop them from being on the App Store."-Apple
Chinese state-run media CCTV has criticized Apple for not doing enough to remove illegal apps in the App Store. It said that Apple made up the rules about the kind of apps it won't allow listed in the store, but has allowed "bogus lottery and gambling apps" to be available to iOS users in China. Last year,
Apple removed 700 virtual private network (VPN) apps from the Chinese App Store
after the Chinese government requested that the apps be banned. VPNs allow users to send secure messages and email, and view websites that would otherwise be blocked in the country.