Apple releases its first four AirPods television ads
38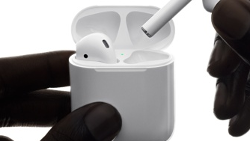 Apple's wireless
Bluetooth powered AirPods first came to our attention last January
. At that time, there was speculation that Apple would be introducing wireless earbuds under the Beats name. There was already speculation about Apple removing the 3.5mm earphone jack from the
Apple iPhone 7
and
Apple iPhone 7 Plus
, so it seemed that there was some legitimacy to the AirPods rumor at the time. By July,
the rumors started to take a more defined shape
.
Originally expected to launch in October, the product finally came to market in December,
but not before Apple had already missed out on a ton of holiday sales revenue
. Still, the AirPods are now available, albeit with a 6-week wait for shipping.
Today, Apple has released four new ads for the AirPods, and we have embedded all four in the video slideshow below. Sure, you could wait to catch them all on television, but that would force you to watch some television programs that you'd rather not see. Instead, click on the slideshow and take a gander at all four ads. The first one shows how easy it is to pair the AirPods to your iPhone simply by opening the carrying case. The second spot focuses on how the product connects to Siri. The third ad makes fun of the AirPods' resemblance to musical notes. And the fourth and last ad is a combination of the first three spots.
Apple has a ready made market for the product. Millions of
Apple iPhone 7
and
Apple iPhone 7 Plus
owners seeking to replace the 3.5mm earphone jack on their phone can use the AirPods instead of the EarPods that come with the new handsets out of the box, and plug into the Lightning port.
source: Apple (
1
), (
2
), (
3
), (
4
)