Apple: put your HomePod 'on a different surface' if it leaves wood marks
39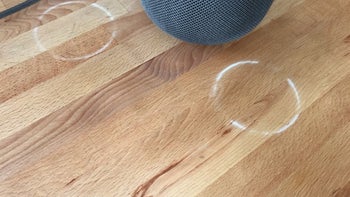 Our thoughts and prayers are with you and your family at this difficult time...

— Andy Slater (@Grossberger101) February 15, 2018
The new Siri-powered
HomePod
smart speaker has been leaving ring marks on people's wooden surfaces, it seems, and it might be par for the course, says Apple. Some of the people who got the HomePod, noticed it leaves lighter circles where it lies. It turns out that these might be the oils or wax on certain wooden materials getting diffused by the silicon base that is absorbing the thumping sounds emanating from the speaker. Say what? Yes, it's a thing, and it is in the HomePod's support pages... as of today:
It is not unusual for any speaker with a vibration-damping silicone base to leave mild marks when placed on some wooden surfaces. The marks can be caused by oils diffusing between the silicone base and the table surface, and will often go away after several days when the speaker is removed from the wooden surface. If not, wiping the surface gently with a soft damp or dry cloth may remove the marks. If marks persist, clean the surface with the furniture manufacturer's recommended cleaning process. If you're concerned about this, we recommend placing your HomePod on a different surface.
Now, who didn't read the manual? Well, so far a bunch of reviewers, and a few guys taking to Twitter to complain about it, so we wouldn't call it a #ringgate just yet. These days folks get enraged by things way more innocuous than stains on their waxed natural wood furniture, so we wouldn't discount the HomePod leaving a mark in our collective rant culture, though it's unlikely to be a permanent one.