iOS 13 is here; iPadOS and iOS 13.1 coming earlier than expected
55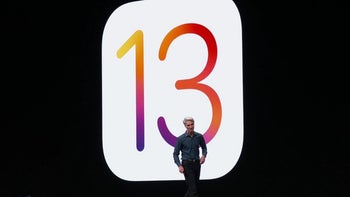 If you own an
Apple iPhone 6s
or later, go to
Settings
>
General
>
Software updates.
You might find that iOS 13 is ready to be downloaded and installed. Among the new features expected is a system-wide Dark Mode which will change the usual black text on a white background to white text on a dark background. Besides protecting your eyes at night or with the lights off, Dark Mode can also save battery life on a phone with an AMOLED screen; that's because these displays create the color black by turning off the appropriate pixels which reduce the draw on the battery.
The virtual QWERTY keyboard is now swipeable and FaceTime will use AI to make it appear as though you are looking directly at the screen instead of the camera. Face ID now has a wider field of view so you can now leave your iPhone on the desk and look down in order to unlock it. New Photo editing tools arrive with iOS 13 allowing you to customize your photos and videos for white balance, sharpening, and noise reduction. In addition, lighting in Portrait mode can now be customized.
Thanks to AI, your device will learn what time you usually take the phone off the charger. This happens over time. Instead of fully charging your battery and trickle charging until you disconnect, it will hold back from topping off the battery until the time that you usually unplug. This feature should help to extend the life span of the battery.. Apple Maps will be more accurate and display more detail in iOS 13, Siri should be improved and there will be more Memoji at your disposal. With iOS 13, app downloads will be 50% smaller with a 60% cut in the size of app updates. This will result in zippier app downloads and updates. Apps will load on your iPhone twice as fast as they do now. You can check out all of the new features of iOS 13 by clicking right
here
.
Apple will release iPadOS earlier than expected on September 24th

Meanwhile,
iOS 13.1, the first update for the just-released operating system
, will be released on September 24th. That is six days ahead of the originally expected September 30th release date. So what can you expect with iOS 13.1? The ability to share your estimated time of arrival (ETA) and Shortcuts Automations. And the update also includes support for encoding HEVC videos with alpha channels. That simply means that video can be filmed with transparent or invisible backgrounds allowing users to perform some quick editing tricks on their handset.
Also coming on September 24th (instead of September 30th) will be iPadOS. In order to keep things synchronized, it could be called iPadOS 13.1. For many, the ability to add more app icons and pin widgets to the home screen will be the most important new feature. Others will enjoy the improvements made to Slide Over that will result in improved multitasking, and with Split View, users will be able to open content from a single app in two halves of the display. Highlighting text will be as simple as scrolling over the section you want to be highlighted; a three-finger gesture will allow users to cut and paste.

For those who would rather type (or swipe) on a smaller virtual QWERTY, that can be arranged with iPadOS. Desktop versions of websites will automatically load on Safari instead of the mobile pages, and yes, iPadOS will include some of the features that arrived today with iOS 13. That includes a Dark Mode, video editing capabilities and the new and improved Photos app. Apple's goal is to make the iPad more of a laptop substitute than ever before.