Apple uses famous Las Vegas slogan to promote iPhone security on billboard near CES
26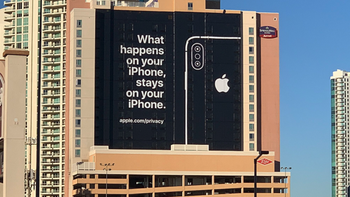 Surely you've heard the iconic slogan used by the the Las Vegas Convention and Visitors Authority to attract visitors. "What happens in Las Vegas, stays in Las Vegas" has been one of the most popular slogans ever created by a tourist agency. In fact, it is so well known that Apple borrowed it for a billboard that it put up in Las Vegas just days before the start of the 2019 Consumer Electronics Show (CES).
The billboard shows the outline of the back of an
iPhone X
,
iPhone XS
or
iPhone XS Max
and says "What happens on your iPhone, stays on your iPhone." Underneath the image is the web address to Apple's privacy page (apple.com/privacy). The billboard was photographed and
tweeted by Chris Velazco (@chrisvelazco)
, and as one Twitter member noted, it certainly appears creepy with the giant image of a dual camera system looking right at you.
Traditionally, Apple does not buy a booth or make presentations at CES. But the billboard is a good buy for Apple since it will certainly attract the attention of those walking to and from the Las Vegas Convention Center, where the trade show is held.
"At Apple, we believe privacy is a fundamental human right. And so much of your personal information — information you have a right to keep private — lives on your Apple devices. Your heart rate after a run. Which news stories you read first. Where you bought your last coffee. What websites you visit. Who you call, email, or message. Every Apple product is designed from the ground up to protect that information. And to empower you to choose what you share and with whom.We've proved time and again that great experiences don't have to come at the expense of your privacy and security. Instead, they can support them."-Apple