Apple patent reveals it hasn't dropped the idea to make switching carriers a breeze
10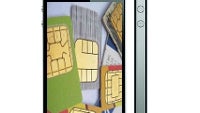 Remember when European carriers went Tony Soprano on Apple when it wanted to plant an
embeddable, programmable SIM card in its next iPhone
? They
threatened to cut subsidies for the iPhone
, and let it wither and die under the crush of its own price tag, if Apple tries to circumvent them.
We've all heard the rumors that the next iPhone will feature a
world radio by Qualcomm
, combining both GSM and CDMA frequencies. Apple's idea was to allegedly put a programmable SIM card inside the iPhone, and to make switching carriers a breeze via an app. We can imagine how that could have raised the hair on carriers' necks, since then everyone will be able to switch carriers quickly on the go,
comparison-shopping for the best deal
while abroad, for instance, instead of paying the ugly roaming charges.
Still, it seems that Apple might implement this idea under one form or another, or maybe it is just trying to protect its intellectual rights over it. Last year, Cupertino has filed a patent called
"Method and Apparatus for Using a Wireless Communication Device with Multiple Service Providers"
(boy, who's coming up with those titles?), and it was made public just recently.
Such an
open SIM
module would make great sense for the rumored
affordable iPhone, relying heavily on iCloud
, which is supposedly mulled to reign in on the huge prepaid crowd, especially in emerging markets.
source:
AppleInsider