Apple patent for motion changing interface on iPhone also hints at video chat
This article contains unofficial information.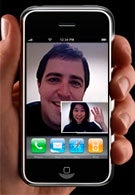 Gizmodo is reporting that Apple is trying to patent a UI that changes with the environment that the user is in. For example, an iPhone owner is sitting in the back seat of a car (never drive while talking on your cellphone), trying to press a name on his contact list, but the car is bouncing around on the road making the task difficult. Based on the idea in the patent, the iPhone screen would change with the names on the list growing in size to make it easier to touch the right one while the car is unstable. The drawing of the device on the patent form shows a front facing video camera as part of the equipment required for the UI to morph. The camera could also be used for real time face to face video chat. Video calls have been a normal part of the cellphone experience overseas for some time now, but has not yet been supported by U.S. carriers and phone manufacturers.
source:
Gizmodo