Apple patent allows iOS devices to share content by pouring it out
26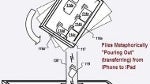 If you can pour water from a pitcher to a glass, you soon might be able to
share content
on your Apple iPhone with another iOS powered device. A patent filed by Apple shows that the Cupertino based firm has developed a way to move files, web pages, contacts and more, between devices using Apple's mobile operating system. Unlike the HP TouchPad's Touch to Share, which requires two webOS devices to touch, Apple's technology requires the use of
certain gestures
and both the sending and receiving models do not physically interact with each other.
In a clever metaphorical use of a gesture, the device sharing the content would be tipped like a pitcher of water
"pouring" the content
into the receiving iOS device. Motion sensors on the device "pouring" the content would allow the items on the unit's screen to slide down as if gravity were pushing them toward the receiving device. Using the pictures on the patent filing, the Apple iPad would be able to interpret the pouring motion of the Apple iPhone as a sign that the latter has files to share. Once the iPhone determines that the iPad is available to receive the content, a link between the two iOS devices is established via Bluetooth or RFID signals. Once the signals are authenticated, the iPhone requests that the iPad accept the content and the
data is transferred
.
Other animation that could be used to "show" content sharing include having the content appear to "float" from one screen to another, or appear to go down an hourglass, or even as a Alka-Seltzer type tablet dissolving in bubbles.
In another use of the technology covered in the patent,a person using an Apple iPad in a room with an Apple iPhone user could share content with the latter person by
flicking on the tablet's screen
in the direction of the iPhone that the content is to be shared with. This would be useful in a class room or boardroom setting.
source:
PatentlyApple
via
Gizmodo
Recommended Stories