Apple might run into display shortages with the new iPad, analysts worry
17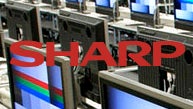 Out of the
screen manufacturing trinity that produces the Retina Display for the new iPad
, analysts say that Sharp is having the most trouble securing yield that is sufficient for the millions of tablets Apple is expected to sell.
Sharp is Apple's future darling
, due as much to the fact that it uses the innovative IGZO method of production, as to Apple's desire to diversify from the ball and chain of its usual screen suppliers LG and Samsung, especially in light of the fly-by lawsuits.
IGZO allows for much less LED backlights than the conventional method, but as a nascent technology has allegedly put a strain on Sharp's capacity, and it had to retool for amorphous silicon, a method that LG and Samsung are reportedly using to produce the super high aperture pixels for the new 2048x1536 Retina Display of the new iPad.
Analysts expect screen shortages to continue for a while and we might be in for the same process that happened with the iPad 2, where yields were sufficient enough to meet demand months after the launch. We are already running into
exhausted pre-orders
and 2-3 weeks shipping delays quoted for the new iPad.