New iPad already selling out AT&T variant
15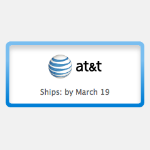 It looks like the reports we had heard about shortages of the new iPad may not have been all that far off. Pre-orders for the new iPad already broke Apple's servers for a short time yesterday, and now we're seeing the results of the rush to buy.
Already, if you go to Apple's website to preorder an iPad, you'll notice that not all of them are shipping on the 16th anymore. The white 16GB iPad for AT&T has already sold out and had its shipping date bumped to March 19th. That's not a big difference, but a telling one nonetheless.
As we know, Apple only keeps 2 days worth of stock on hand and relies on projections to meet demand. It looks like Apple underestimated the demand for AT&T iPads with LTE, perhaps because AT&T's LTE network still pales in comparison to the coverage offered by Verizon's LTE network. Still, if you want an AT&T LTE iPad on the 16th, you may be out of luck, and be forced to wait a couple extra days, or just buy one with a black bezel.