Apple launches Search Ads about a week early, seeds developers a $100 credit each
2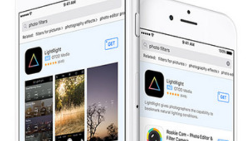 Earlier this year, Apple introduced new Search Ads inside the App Store. These ads are now official and can be purchased by developers to promote their wares. A special website for the Search Ads helps run developers through the process of creating an ad. According to Apple, 65% of App downloads from the App Store come from a search result. For developers, getting the name of their app on the top of the results can be the difference between a successful money making app and a losing proposition.
During the summer, Apple gave developers free ads in order to
help it test the beta version of the Search Ads
. New users are getting a $100 credit from Apple to use one time through December 31st, allowing them to give this type of advertising a shot. Tools built inside the app allow developers to design a campaign that fits their budget, and allows them to focus on certain demographics.
Apple's website makes it completely clear what kind of advertising is prohibited (nothing discriminatory or defamatory). Profanity and adult content are also not allowed. If you're a developer, ask yourself how people are going to find out about your app if you don't give them the opportunity to learn about it. If interested in Search Ads, click on the sourcelink below.
source:
Apple