Apple joins the Dow 30 replacing AT&T
9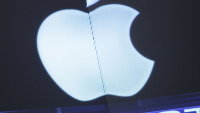 Even though Apple's stock market capitalization (share price multiplied by number of outstanding shares)
makes it the most valuable company in history at $736 billion
, Apple had still not been recognized by the keepers of Wall Street data as being one of the 30 companies that best represents the stock market. That is, until today. Dow Jones, the company that holds the rights to the famous Dow Jones Industrial Average, has announced that Apple will join the 30 stock index on March 19th, replacing AT&T.
The change is partially being made because of a four for one stock split involving financial company Visa. But Apple's selection is an obvious choice anyway. Piper Jaffray analyst Gene Munster calls it "
an historic moment
." The index was created by Charles Dow in 1896 to track the stock price of certain industrial companies. Only GE is left over from the original list.
"As the largest corporation in the world and a leader in technology, Apple is the clear choice for the Dow Jones Industrial Average, the most recognized stock market measure."-David M. Blitzer, Managing Director and Chairman of the Index Committee at S&P Dow Jones Indices
Apple went public on April 1st, 1980, listed on NASDAQ. Since that time the company has continuously gone from strength to strength with its innovative products including the Apple iPhone, Apple iPad and the upcoming Apple Watch. Last quarter,
the company reported an amazing $18.1 billion in profits
as it sold a record breaking 74.5 million iPhones in the period.
The announcement could lead to a flurry of buying in Apple as mutual funds tied to the index will need to buy Apple's stock to keep up with the change in the listings. Apple's shares are up 1.4% on the news to $128.12.
source:
BusinessInsider