Apple becomes the first company ever to be valued at $700 billion
29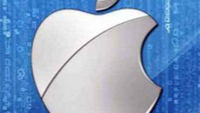 Apple's close Tuesday at $122.02 helped the tech titan set a new record. At that price, the market capitalization of the company (share price multiplied by the number of shares outstanding) exceeds $700 billion. The figure gives you an idea of how much Wall Street believes the company is worth at the moment. At a value of $710.7 billion, Apple is the first company ever to sport a market cap of $700 billion or more.
To put this figure in perspective, the figure is well ahead of second place Exxon. The oil giant has a market capitalization of $385 billion. Apple's shares have risen since the company announced
an incredible fiscal first quarter earnings report
that saw it score an amazing $18 billion in net profits. From October through December, Apple sold a whopping 74.5 million iPhone units exceeding every estimate that Wall Street analysts had disseminated.
Apple now carries twice the value of Microsoft and Google. Once the gold standard of U.S. corporate success, GM is worth just 8.5% the amount that Apple is valued at. Since markets tend to "think ahead," some of the launch of the Apple Watch is probably priced into the shares. But if demand for the timepiece exceeds estimates and the word innovative starts appearing in stories about the company, who knows where this runaway train finally stops. Could Apple become the first trillion dollar company?
Since Apple's IPO in 1980, the shares have risen 50,600%. Over the last year, the stock is up 64%. And for those who worried about the future of Apple following
the death of co-founder Steve Jobs
, the shares have doubled since Jobs' passing.
source:
WSJ