Apple is Fortune's Most Admired Company once again, winning for the 5th straight time
20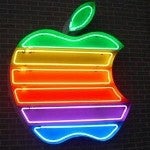 So which of America's great companies
is its most admired
? One hint, this company has won the title the previous four years. Care to hazard a guess? That is correct,
it is Apple
that has just picked up its fifth straight trophy. Fortune magazine says that the company's financial performance is the reason why Apple is so admired. Last year Apple brought in $108 billion as sales of its popular Apple iPhone and Apple iPad soared 81% and 334% respectively, and the stock rose 75% in 2011.
Apple's spot at the top of the Most Admired Company list mfor 2012
ties it with GE
, which also has won the award 5 times. One more win by Apple would put it alone at the top by being awarded the nation's Most Admired Company 6 times. Apple might find itself with more competition next year as
Samsung
has come out of the pack of Android manufacturers to stand out with devices like the Samsung Galaxy S II and the Samsung GALAXY Note. The former has sold
20 million units in the 10 months since it was launched
and the latter has already
notched sales of 2 million
"phablets". With the Samsung Galaxy S III due out this year, the Korean based firm could really be a challenger to Apple and break its streak.
On the other hand, Apple should be
introducing its third generation tablet on March 7th
. The Apple iPad 3 is expected to have a
higher resolution Retina display
, a faster processor, an improved camera and LTE connectivity. Later this year, the Apple iPhone 5 is expected to be launched with many
looking for a major re-design of the device
including a larger screen.
source:
Fortune