Samsung Galaxy Note sales hit 2 million, aims for 10 million by 2013
23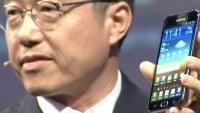 The
Samsung Galaxy Note
is a weird device - it has a huge 5.3-inch display which some might think is too big. For others Goliath-handed fellows it's just perfect, and now its
sales have hit 2 million units
proving that it has a place under the smartphone/tablet sun. What's more, Samsung expects sales of the Note to soar to 10 million by the end of 2012.
Currently, the Galaxy Note is one of the devices getting special attention at MWC where artists draw caricatures of visitors with the built-in S Pen Wacom stylus.
The Galaxy Note represents a new kind of device blurring the line between a tablet and a phone. It's portable, but sacrifices a bit on the esthetics (imagine holding something that big to your ear on the street) and it will hardly fit in tight jeans.
Call it a phablet, a tablet-phone, but fact is that it has carved in a niche that other manufacturers were quick to go in. The
LG Optimus Vu
for example is a similarly large, 5-inch handset unveiled just before MWC. The
Panasonic Eluga
's screen also measures at 5 inches on the diagonal.
Do people need it?
"I think people don't know what they need,"
Samsung product strategy executive Hankil Yoon said. "But as soon as they start using it, they think that's what they need."
As frank as it is, there's true to that. If we take the iPhone for example, its 3.5-inch screen was huge when it arrived, and now some people turn to other operating system because they think it's too small. While we're sure that time will tell what size is right, you can chime in with your opinion below - is 5.3-inch stretching it?