Apple iWatch could literally have your back with UV exposure sensor
6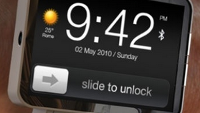 Those who burn easily in the sun could have the Apple iWatch on their side, watching their back. Blayne Curtis, an analyst who toils for Barclays, says that the Apple smartwatch will contain UV exposure sensors, to make sure that the owner of the watch doesn't get too much sun and burn. The sensors would come from Austin, Texas based Silicon Labs. The company announced the chip in February, saying that that they are "
the first single-chip digital UV index sensors
."
The chips do more than protect you from getting a nasty sunburn. They can also measure heart rate, pulse and blood oxygen level. Using infrared and ambient light meters, the sensor can also double as a proximity and a gesture control sensor. And the cool thing about these sensors is that they are just 2mm square. Why, at that size they could easily fit into something like a watch.
The analyst sees Apple selling as many as 10 million units of the iWatch in 2014, assuming that the timepiece doesn't launch too late in the year.
source:
Barron's
via
AppleInsider