Apple iWatch concept shows dreamy curves, iPhone-esque looks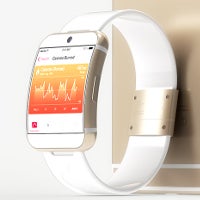 The Apple iWatch is probably the most anticipated smartwatch out there. After years of talking about wearables, this year the revolution has started happening: the Pebble smartwatch seems to have kicked it off, and then Google picked up the torch with Android Wear, but while both releases brought new devices, sales have not really picked up significantly.
Now, Apple will try to stir the field with its iWatch and with the official unveiling expected on September 9th, this here is one of the latest concepts to imagine the forthcoming gadget. Created by Martin Hajek, a designer that has brought us the most detailed, true-to-rumors and good-looking iPhone and iPad concepts, these iWatch renders paint it as a device of an
iPhone 6
-esque style.
What do we mean? The curved edges, the button style, the plastic cut-out for supposed better RF transmission: all features we've seen or heard about on the upcoming iPhone 6. As good as it looks, a concept is nothing but a concept, especially for a device like the iWatch that has not leaked a single time in images.
FEATURED VIDEO
This, however, should not stop you from leaving your thoughts about this design: would you like an iWatch looking like that?
Apple iWatch concept shows dreamy curves, iPhone-esque looks