Apple iPhone XS Max vs Huawei P30 Pro
21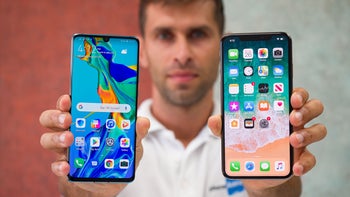 The
iPhone XS Max
has been around for almost one year and the
Huawei P30 Pro
is nearing its six-month anniversary. These devices will be succeeded by the iPhone Pro and Mate 30 Pro in mid-September but, with a few weeks still left to go, we thought now would be a good time to compare Apple and Huawei's (soon-to-be-replaced) greatest phones after extensive use.
Design

Neither of these devices is what you'd consider compact, but the Huawei P30 Pro does feel noticeably better in the hand. This can be attributed to the thin side bezels that arrive paired with a waterdrop-like notch above, the latter of which houses the selfie camera, and the curved edge display, which helps reduce the phone's overall width substantially, although this will undoubtedly annoy those who aren't fans of curved display technology.


The iPhone XS Max, on the other hand, features a flat display which actually makes it one of the widest flagships on the market right now. So wide, in fact, that certain people may consider it uncomfortable to hold. Unlike the Huawei, this device boasts uniform bezels which means the chin is slightly smaller but the side bezels are ultimately a little thicker. It also includes a controversially wide notch that is home to the in-ear speaker, the selfie camera, and Apple's Face ID system.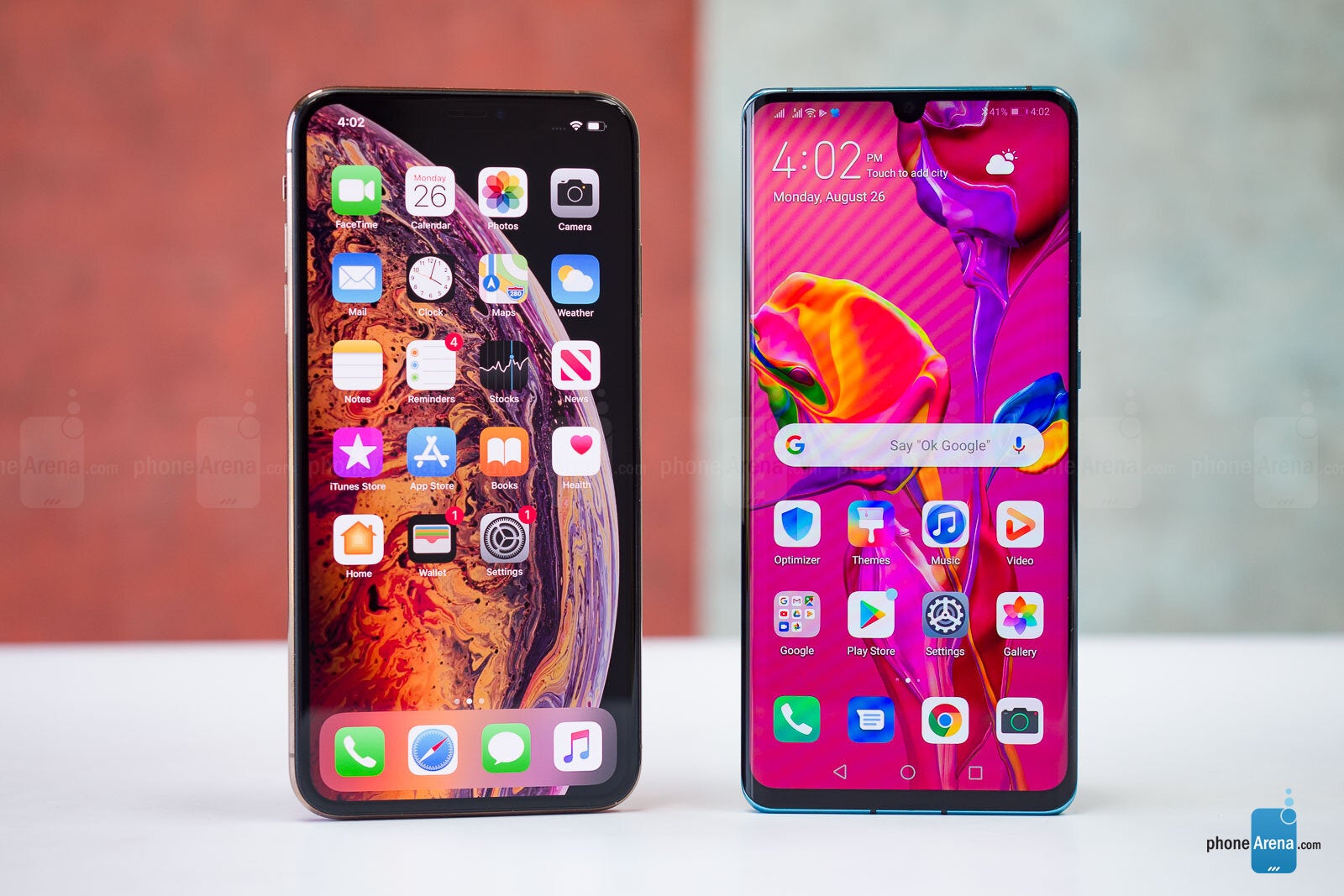 Both of these devices feature glass rear panels and vertical camera setups that are positioned in the top-left corner, but there are some important differences. The Huawei P30 Pro, on the one hand, features a two-column camera layout and subtly curved edges along either side of the back. The iPhone XS Max, on the other hand, uses a smaller camera module and a flat rear panel that creates a slightly more industrial look.

Completing the exterior packages on the Huawei P30 Pro and iPhone XS Max are aluminum and stainless-steel frames respectively. On paper, Apple's device includes the more premium material but, in reality, there isn't too much of a difference. Some people may even prefer the Huawei's frame over the iPhone's one because the latter is noticeably heavier and quite the fingerprint magnet which means it often needs to be wiped.
Display

Apple and Huawei's premium devices, like most modern flagships, are equipped with OLED displays. These panels are roughly the same size – 6.47-inches on the Huawei and 6.5-inches on the iPhone – and support the 19.5:9 aspect ratio, but they do differ when it comes to resolution. Specifically, the P30 Pro offers a 2340 x 1080 resolution and a pixel density of 398ppi while Apple's phone opts for a 2688 x 1242 resolution and a pixel density of 458ppi.


All of this means that Apple's iPhone is technically the superior one in terms of resolution –something you don't hear very often – but the differences are barely noticeable when comparing the two flagships directly. The same thing can't be said, however, about the color reproduction.


While neither of these displays is bad – they're far from it – the iPhone's is arguably better. It displays colors much more accurately and also supports Apple's True Tone feature. The latter automatically adjusts colors based on ambient lighting conditions to create a more consistent viewing experience, although it does favor warmer tones in certain scenarios.


The Huawei P30 Pro doesn't offer a True Tone-like feature but it does support a variety of settings that allow users to adjust the color temperature to their exact preference. When set to 'Normal' with the color temperature at 'Default,' though, the display does often look a bit too warm. Similarly, the 'Vivid' option favors colder tones and can lead to eye strain after extended periods of time due to the excess of blue light.




Display measurements and quality



Performance, interface, and storage

The Huawei P30 Pro and iPhone XS Max use the Kirin 980 and Apple A12 Bionic respectively. These are two of the most powerful mobile chipsets available at the moment and therefore mean both smartphones are incredibly fast. Moreover, because they're built using the 7-nanometer manufacturing process, the chipsets are also impressively efficient.


Benchmark tests typically favor Apple's offering in terms of processing power and graphics performance but the Kirin 980 is never too far behind. In real-life scenarios, the differences are negligible and any variation largely comes down to the presence of different operating systems.


The iPhone XS Max ships with iOS 12 pre-installed, a software release that sticks to Apple's usual philosophy. It runs very smoothly and is extremely well optimized but ultimately lacks the level of customization offered by Android. The upside is that the operating system is impressively secure and often prompts users about privacy settings for certain apps. Speaking of which, Apple itself offers a pretty complete suite of apps and services that work seamlessly across the company's other devices.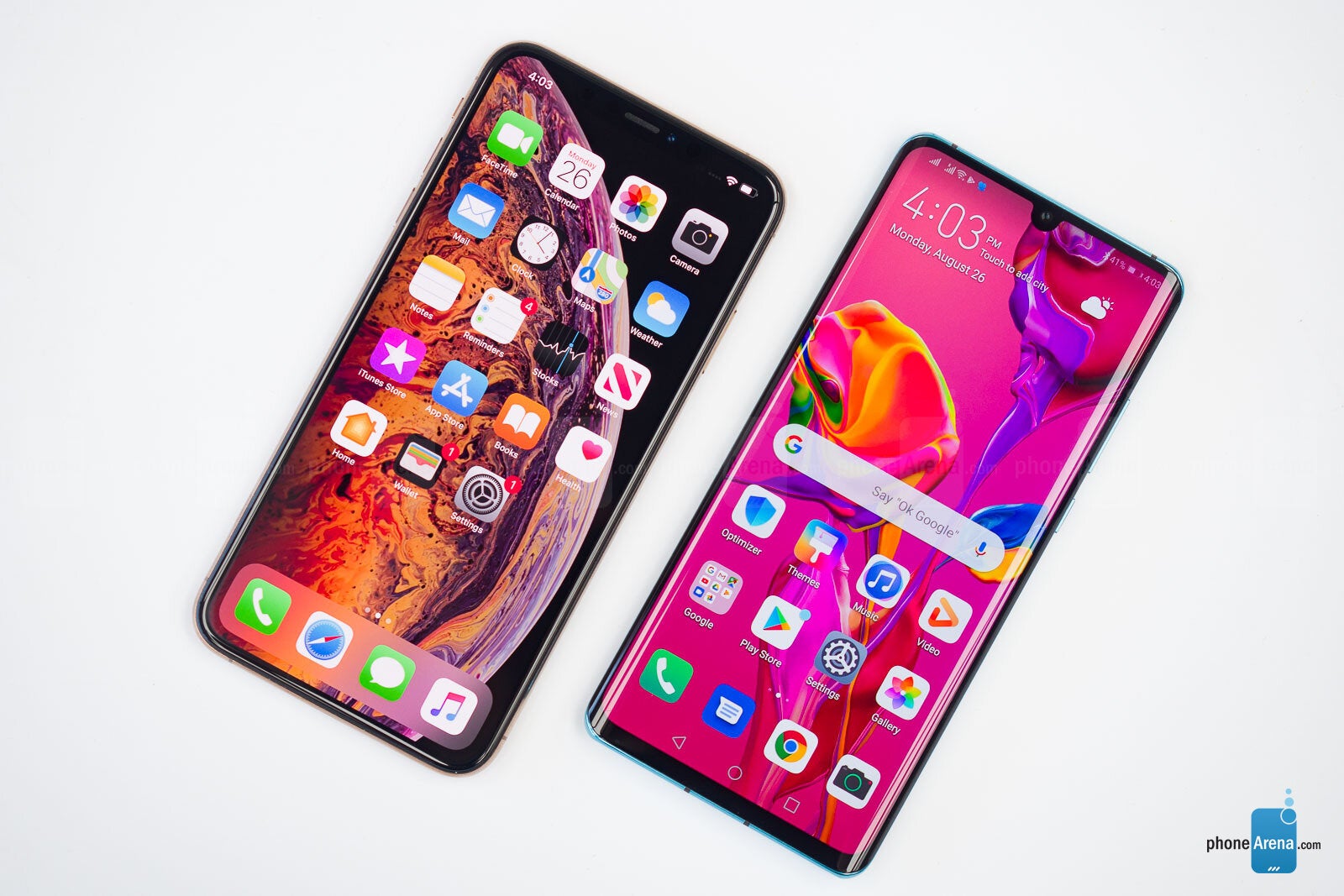 The Huawei P30 Pro, on the opposite end of the spectrum, boasts Android 9 Pie-based EMUI 9.1 straight out of the box. Aesthetically the custom interface actually isn't too different from Apple's iOS 12 but it ultimately offers a completely different level of customization. Huawei's stock launcher can be switched out for one of your choice, icons can be arranged freely, entire OS themes can be installed, and you can even select a different navigation system. As standard the smartphone defaults to Android three-key layout but a gesture-based alternative is available in addition to a floating button-like 'Navigation dock.'
Regarding software support, this is where the iPhone undoubtedly has the upper hand. Apple typically supports its devices for a minimum of four years although five years isn't unheard of. This means the iPhone XS Max should eventually end up running either
iOS 16
or iOS 17. The Huawei P30 Pro, on the other hand, will soon be updated to Android 10 – though there's no certainty as to whether it will ever receive Android 11 next year.

Circling back to the spec sheets of these devices, it's worth pointing out that the iPhone XS Max ships with 64GB of internal storage as standard whereas the Huawei P30 Pro doubles this to 128GB. Both devices are also available in 256GB and 512GB configurations if the base storage isn't sufficient. The Huawei P30 Pro, unlike the iPhone, also supports storage expansion, although a nanoSD card is required for this rather than the usual microSD.
Camera

The camera department is really what differentiates the devices from one another. The iPhone XS Max boasts a dual-camera setup on the rear that consists of a main 12-megapixel shooter paired with a second camera of the same resolution which itself is coupled with a telephoto zoom lens. Optical image stabilization is present on both sensors.

The Huawei P30 Pro, on the other hand, features a versatile quadruple-camera setup. There's a 40-megapixel main sensor, an 8-megapixel periscope camera, a 20-megapixel shooter paired with an ultra wide-angle lens, and a dedicated time-of-flight camera that gathers extra depth data. Like the iPhone, the Huawei P30 Pro's primary and zoom cameras boast optical image stabilization.

When comparing daylight photos taken with the main cameras, the iPhone undoubtedly has the upper hand. Color representation on Apple's smartphone is pretty accurate and shots look a lot more natural overall. The Huawei P30 Pro, on the other hand, often oversaturates and can sometimes add a yellow-ish tint to shots. It's almost as if photos come with an automatic filter that sacrifices accuracy in favor of bright colors to make them more "Insta-worthy."


Reduce the amount of light present when taking photos and the tables turn completely. The iPhone XS Max suddenly struggles to produce consistently good photos and the P30 Pro excels by combining four pixels into one, therefore producing a higher-quality 10-megapixel photo. It's worth pointing out that the shots produced by Huawei's phone can sometimes appear artificial but it's still better than what Apple's device can do.


If the Huawei P30 Pro's standard night shots aren't good enough, there's also a dedicated Night Mode. This drastically increases the amount of light captured and can ultimately produce some incredible pictures that blow the iPhone out of the water. The only downside to this feature is that you need to hold the phone steady for around six seconds.




Huawei's phone also has the upper hand when it comes to zoom. It supports an incredible 5x optical zoom which means previously impossible photos are now within reach. Anything between 1x and 5x uses hybrid zoom technology which combines digital zoom with data from the other sensors to improve the result. As for the iPhone, it supports a standard 2x optical zoom. You obviously can't get quite as close to objects or buildings but it does still produce more natural-looking photos.


While on the topic of zoom, it's worth pointing out that Apple's iPhone uses its telephoto camera for portrait shots. The optical properties of this camera make it more suitable for portrait shots, although some might be annoyed by the fact that subjects appear so close to the camera. The Huawei P30 Pro, on the other hand, supports the feature through its primary sensor but also allows users to zoom in at 2x or 3x if required.


As mentioned above, the Huawei P30 Pro also features an ultra wide-angle camera on the back. This is something the iPhone doesn't have so there really isn't much to compare. Do note, however, that there's a noticeable difference in color reproduction when compared to the P30 Pro's main camera.



Sound quality
The iPhone and Huawei boast impressive display for media consumption but only one of the devices boasts equally impressive speakers – the iPhone XS Max.

The iPhone features a stereo speaker setup which is actually one of the best on the market right now. It produces a splendid sound quality that's made possible by a strong bass paired with an impressive volume level.

The Huawei P30 Pro, for comparison, is probably one of the worst in terms of audio quality. Its use of Sound-On-Display technology means that only the bottom-firing speaker is used when consuming media content. This component is slightly better than the one found on last year's Mate 20 Pro but still lacks the overall depth offered by Apple's device.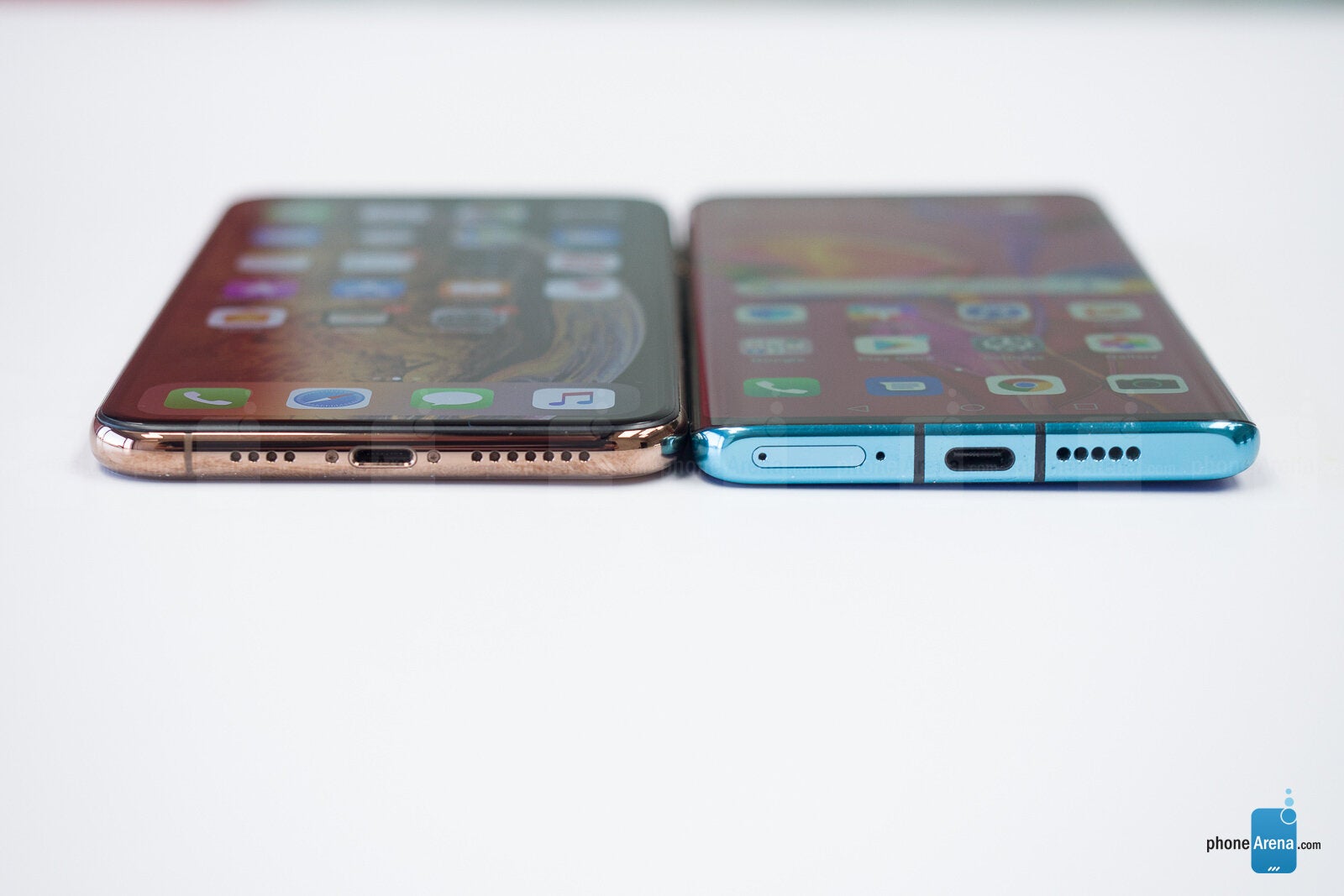 Battery life

The iPhone XS Max features a 3174mAh battery inside and the Huawei P30 Pro boasts a massive 4,200mAh cell. In this case, bigger really is better and there's absolutely no question about it.


While we couldn't perform our own battery test on Huawei's phone because the display brightness fluctuates automatically even when manual controls are activated, it's clear the P30 Pro offers absolutely incredible battery life. It can easily get you through the day on a single charge but with light usage, this could be extended to an incredible 48 hours.


Apple's device, in contrast, struggles quite a bit. With light to regular usage it can last a day, but if you're a power user be prepared to whip out that charger halfway through the day. Speaking of which, the iPhone ships with an unimpressive 5W brick that translates into an appalling charge time of 209 minutes, or roughly 3.5 hours. The Huawei P30 Pro, for comparison, is paired with a 40W fast charger than can provide an astonishing 70% charge in just 30 minutes. A full charge takes around 1 hour.


Both of these flagships support wireless charging but the Huawei also includes the added bonus of reverse wireless charging – a handy feature when other Qi-enabled devices need charging.



Conclusion

The iPhone XS Max and Huawei P30 Pro are two highly recommendable devices. The one you choose, however, ultimately comes down to personal preference.


Apple's device is the best choice if you're looking for a smartphone that'll be supported for years to come or if you're already heavily invested in the Apple ecosystem. Similarly, the iPhone XS Max is probably the one for you if you're a fan of accurate color representation when it comes to photography.


In contrast, Huawei's P30 Pro might be the correct option if a versatile camera system is something you'd enjoy. Alternatively, if you're simply looking for a device that'll last all day on a single charge or one that offers the versatility of Android, look no further than Huawei's offering.


Regardless of which device you go for, it may be worth waiting a month or so before making the purchase. Apple's expected to drop the iPhone XS Max's price by $100 when it introduces the iPhone Pro in about two weeks' time and the arrival of the Mate 30 Pro in three weeks should lead to P30 Pro price drops too.