These are the best wallet cases for the iPhone X: Premium device, premium style
5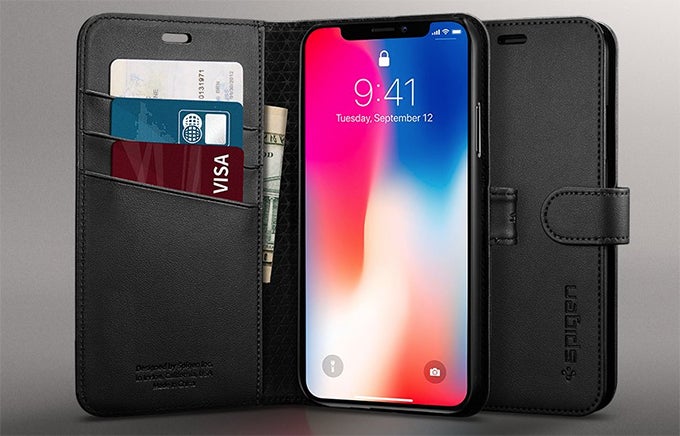 There really is a rather vast variety of cases available for the high-profile
iPhone X
, which is enjoying quite a bit of popularity these days due to the simple fact that it's so much different than the majority of previous iPhone devices design- and feature-wise.
As you might expect, every respectable case maker has a plethora of cases for the iPhone X, with a few of these being, you guessed it, wallet ones.
Although wallet cases might be seen as dad cases and totally not cool at all, these are really convenient - they not only house your phone and a couple of credit cards, but can also act as a kickstand, and let's not forget that they protect your device from almost all angles, shielding even the screen from scratches or potential fall damage. Thus, don't be so quick to shoot 'em down, wallet cases do have a place in the sun.
Let's check out some of the best ones for the iPhone X:
Apple iPhone X Leather Folio
Of course, Apple has its own leather wallet case for the iPhone X, and there's no denying that it's among the highest quality ones you could possibly find.
"Crafted from specially tanned and finished European leather for a luxurious look and feel,"
this wallet case will fit rather snuggly around your device and will put it to sleep and wake it up accordingly as you open and close it. The inside of the case has soft microfiber lining that will carefully caress and keep your screen clean from grime and other nasty stuff while also keeping several cards and a few notes inside.
Pad&Quill Bella case for the iPhone X


Pad&Quill's genuine leather case is designed to develop rich leather patina that aims to feel like an old book cover in your hands. Adding just 0.28" of overall thickness, this case proves that you don't need to haul a brick in your pants when you opt for a wallet case. The case also allows for wireless charging and has all the right ports at just the right spots - nothing is obstructed. You can fit up to 7 cards and notes inside, which is more than enough to make you ditch your wallet and use this case as a full-day replacement. You can choose between a couple of exterior and interior color combos, which
Spigen iPhone X Wallet S
Made of synthetic leather and featuring a magnetic latch to keep it snuggly closed, this Spigen case allows you to fit in as many as three credit cards alongside your prized new iPhone X. The polycarbonate shell ensures your device doesn't get shattered after a close encounter with the hardwood floor, and finally, you got a cutout for the receiver that allows for you to make calls even with the cover closed. All of that goodness can be yours for $29.99.
Moshi Overture
Moshi's leather case is made of vegan tanned leather, which serves as a middle-ground between premium feel and a having the peace of mind that no animals have been harmed in its making. The case doubles as a kickstand, which is a welcome addition to the overall feature list. You will have no problems charging your phone while the case is on, and you will also have no issues accessing all ports and buttons on the device. However, there is no securing mechanism, which could be a bit off-putting for some.
Tech21 Evo Wallet
Available in Black and Pink, this case is not a leather one, but that's not a bad thing at all. After all, there's no unwritten rule that all wallet cases should be leather ones. What it lacks in grace, the Evo Wallet makes up in sturdiness and overall protection - it's certified to protect you prized possession from up to 3m/10ft drops and make sure nothing happens to the iPhone X inside of it. The wallet part of the equation is covered by a concealed space for your credit cards and a cash, which is a rather welcome privacy addition.
Sena Bence Wallet book


The Sena Bence Wallet Books is a rather minimailstic, but feature-packed case comes in three different colors (Tan, Denim, Black), doubles as a kickstand so that you can binge on Netflix's newest hits, and finally, boasts a couple of card slots for you to populate. Even the buttons are covered for extra protection, though not everyone will be happy with this design approach.