Apple iPhone 8 goes through our battery life test: encouraging result
83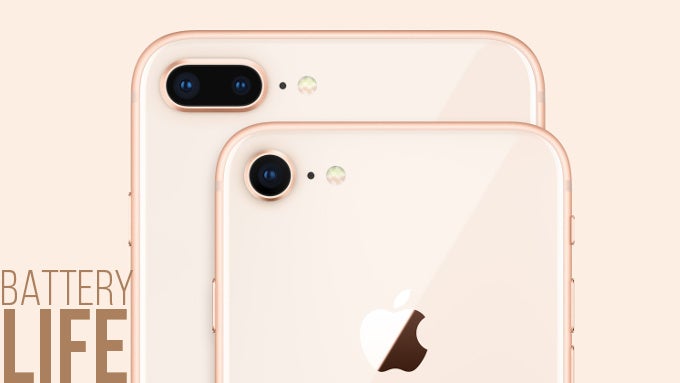 Our
Apple iPhone 8 review
is out and in it you can find our detailed impressions with the new iPhone, but one thing we want to highlight here is the iPhone 8 battery life.
After all, we already know that the iPhone 8 has a smaller battery than the iPhone 7:
This is a 7% decline in battery capacity that Apple has to somehow make up for.
So how did it do and does the iPhone 8 last as much as the iPhone 7 in real life?
First, let's make one thing clear: the new iPhone 8 ships with the Apple A11 Bionic chip, which is now built on a more efficient, 10nm process that allows the chip to consume less energy while delivering the same or even higher performance. Also, the iPhone 8 has a glass back and supports wireless charging, both factors for the smaller battery size.
Smaller battery, yet no drop in battery life
Before sharing our real-world experience with the iPhone 8, we had to run our battery test. This is a synthetic test that tests typical performance of a phone, with the screen set at 200 nits of brightness, a level comfortable for indoor use. Interestingly enough, even with its smaller battery, the iPhone 8 actually outscored the iPhone 7: it got 8 hours and 37 minutes on our test, while the iPhone 7 scored 7 hours and 46 minutes. Here is how this results compares to other phones out there.
Our test shows that the iPhone 8 also outdoes many Android phones in terms of battery life: with the HTC U11 being the clear exception and the top-ranking flagship phone for battery life at the moment.
And in real life, the iPhone 8 will last a full day, but not much more than that and we've noticed that stand-by time is excellent.
There is one more aspect to the battery experience on a phone and that is how long it takes to charge it. The iPhone 8 supports fast charging, but it does not ship with a fast charger in the box. That is a bummer for an already expensive phone. Using the stock charger, you still get depressingly slow charging speeds. Here are the results:
We will test wireless charging times and fast charging the iPhone 8 in the near future and we will update this post as those results become available.