Apple iPhone 7/7 Plus unboxing pits the Jet Black vs matte Black packaging
13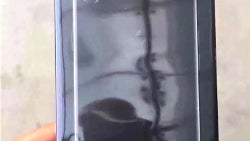 The new
Jet Black and (matte) Black color options
of the
iPhone 7
and
7 Plus
are proving to be a runaway success for Apple, just as all freshly-squeezed color options usually do. Apple is undoubtedly trying to focus the attention on the Jet Black model, even featuring it as a header device for the iPhone section of its site, and, as a result, the preorder deliveries for this one are being
pushed for the next month(s)
.
Apple has predicted the popularity of the new glossy finish pretty well, it seems, as the Jet Black is only been offered
in the higher price brackets
, not with the basic 32 GB storage units, and there is still huge demand for it. The matte option, called simply Black, also has its fair share of admirers, as
T-Mobile's CEO just confirmed
, but it's not exactly clear if its popularity is due to the lack of enough Jet Black units, or many people just prefer the understated dark version than the glossy one.
In any case, if you are wondering how these two iPhone 7 and 7 Plus hues look like while they are still in the retail packaging, the Chinese tech blogosphere comes to the rescue. The photos you see below are allegedly from the first known unboxing of the matte Black 7 Plus version, while the guy also shows the Jet Black iPhone 7 wrapper for a comparison - white carton for the matte, black box for the piano finish, neat.