Apple iPhone 7 dummy surfaces in China, showing thinner body and absent 3.5mm jack
52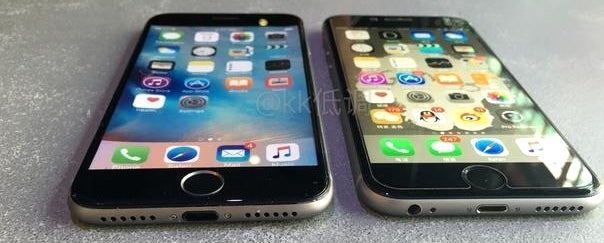 The alleged iPhone 7 is to the left, no 3.5-mm jack and all
The iPhone 7 might go down in history as one of the most leaked Apple devices ever, considering the rumor mill has been serving its production on an almost daily basis over the past couple of months. Today, we get a very clear idea of how the device could end up looking in practice, thanks to a Chinese leakster in possession of a dummy uniy.
Notable changes that have consistently appeared before can be observed in the footage – the disappearance of the earphone jack, the emergence of a second set of speaker holes, the shallower Home button, and the significantly thinner profile are present. Also note that the "display" shown here is actually printed on paper.
The video shows the purported iPhone 7's back from all sides, matching most the intel that's appeared so far. A bigger camera lens, re-positioned plastic antenna bands, and two colors - Gray and Silver - are shown.
While the iPhone 7 won't introduce an all-new design, it will give Apple the opportunity to perfect its sixth-generation iPhone and give its very successful design a proper goodbye before bringing exciting changes like curved screens, glass backs, an OLED display, and sensor-based Home button to the 2017 iPhone, among other rumored additions. You can read more about recent iPhone-related developments by following the links below the video.
ALSO READ