Apple iPhone 5c rises from the dead, outsells Android flagships, Windows Phone and more in Q4?
90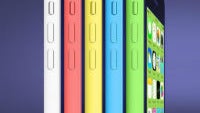 According to sales numbers computed by multiple sources, the
Apple iPhone 5c
sold 12.8 million units in the fourth quarter of last year. Apple sold 51 million iPhones in that three month period,
a mere 4 million behind expectations
which resulted in the stock getting spanked. But based on these same sources, the
Apple iPhone 5s
sold 31.9 million units with 6.4 million attributed to the
Apple iPhone 4s
.
The
number of Nokia Lumia handsets sold in the same period was 8.2 million
. Considering that the Finnish handset manufacturer accounts for 90% of Windows Phone sales, it would seem that the iPhone 5c topped Windows Phone sales in that quarter. And with BlackBerry ringing up 6 million units in the period, the plastic iPhone 5c sold more than twice as many units as BlackBerry did.
About 9 million
Samsung Galaxy S4
models are believed to have been sold in the fourth quarter, and even if you throw in the
2.3 million units
of the
LG G2
that found an owner for a bit more than a quarter, it would seem that the iPhone 5c outsold the pair of flagship Android handsets during the last three months of the year both separately and combined. (We should note that the LG G2 might have
sold close to 3 million phones
during the period in question)
While the numbers are interesting, let's keep in mind that this did all take place in the holiday quarter when the iPhone 5c was discounted, and the device might have found its way under a lot of trees on December 25th. We also have passed along to you a recent report showing that
iPhone 5c inventories now total about 3 million units
. According to that report, 2 million of those phones are collecting dust at Pegatron while another million sit on carriers' shelves.
Taking everything into account, and assuming that the numbers are correct, it is quite a showing for a phone that many had called a failure. But before the folks in Cupertino dump Gatorade over Tim Cook, a report last month says that
Apple will be removing the iPhone 5c from its lineup, and replacing it with a version of the Apple iPhone 5s
(with a chassis made from a cheaper material) once the next-gen models are released. As you know, it is expected that Apple will be launching an
Apple iPhone 6
with a screen-size expected to be 4.7 inches, followed by a iPhone phablet with a screen-size of about 5.5 inches.
Thanks for the tip, Sauce!
source:
AppleInsider