Apple iPad tops TIME's Top 10 gadgets of the year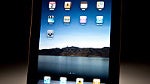 Time Magazine came up with a list for pretty much everything that happened throughout the year, but what caught our eye was the top 10 gadgets of 2010. The big winner here was
Apple's iPad
because, as the magazine puts it, "Apple finally managed to make tablet computing cool".
It certainly is true, but what we saw as even
more
important is the growing presence of cell phones in Time's top 10 gadgets list. This time there are three picks - the
Samsung Galaxy S
, which was the runner-up to Apple'siPad,the
Google Nexus One
at the fifth place and Apple's
iPhone 4
ranking sixth. The inclusion of three phones sets a
record
in the number of phones mentioned in Time's rankings. The mag included two phones last year and in 2007, and only one in 2008. Now, this fact is noteworthy because it illustrates that phones are becoming/have become the uber-gizmos of today.
Since Time magazine measures the top gizmos for each year and that certainly brings more stress on the
novelty
a product offers. Interestingly enough, according to the edition, the iPhone, which won the 2007 award for gadget of the year, has been slowly but consistently ranking lower.
The iPhone was
number one
gadget of 2007, then the iPhone 3G came in
third
in 2008, the 3GS was left at
fourth
place in 2009 and now the iPhone 4 is way back on the
sixth
place this year. This is no final judgment, and we certainly think that the iPhone is just getting better and better, but the question is whether the innovation is quick enough. What this might also hint is that the distance between handsets is winding down.
Android took a stand this year with two handsets, but it did not make as much of a splash as last year, when the
Motorola DROID
took over the ratings. As Time puts it:
"In phones, 2010 was
the year of the Android
. Google's mobile software was installed on slightly more than 9 million smart phones in the third quarter of 2010, according to research firm Canalys. That means 44% of all new smart phones run on Android, up from about 5% a year ago."
Take a look at the magazine's rating for this year below, but if you want the best in phones do not forget to check our picks for
Best phones of 2010
.
TIME's 2010 Top 10 Gadgets:
1.
Apple iPad
2.
Samsung Galaxy S
3. Apple MacBook Air (11-inch)
4. Google TV via Logitech Revue
5.
Google Nexus One
6.
Apple iPhone 4
7. Apple TV
8. Toshiba Libretto Dual-Screen Laptop
9. Microsoft Kinect
10. Barnes & Noble's Nook Color
source:
TIME