Apple iPad owners trade-in their current slates prior to unveiling of new models
5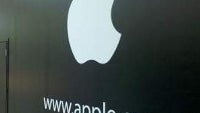 Apple iPhone owners are known for hitting the trade-in sites
as soon as it gets close to the time of the year when the next-generation iPhone should be released. The money they get for trading in their current model is quickly deployed toward the purchase of the next iteration of Apple's iconic smartphone. Now, the phenomenon has moved over to the Apple iPad with sites like Gazelle and NextWorth seeing a huge increase in the number of people looking to trade in their Apple branded tablet.
On Tuesday,
Apple confirmed earlier reports that it would introduce its latest tablets on October 22nd
. But even before Apple sent out invitations to witness the unveiling of the
Apple iPad 5
and the Apple iPad mini 2, consumers were looking to raise money for the new slabs. According to Jeff Trachsel, CMO of NextWorth, from the week of October 1st to the week of October 8th, requests for iPad trade-in quotes had risen 220%. Gazelle has seen a stunning 312% increase in iPad trade-ins since October 3rd. The lion's share of the increase came last week admid rumors of the October 22nd unveiling of the new models.
If you haven't traded-in your iPad already, you might have missed the peak pricing period. A chart from NextWorth shows that the earlier you trade in the tablet, the better the chance that you will get top-dollar for it. The chart, which shows pricing from last year, reveals that the
Apple iPad 3
had the largest drop in price from August 2012 through November when the
Apple iPad 4
was released. The iPad 3 lost 10% in trade-in value during that time period. Ironically, the
Apple iPad
(-4%) and the
Apple iPad 2
(-7%) held up better.
So just how much is your current iPad worth? On Next Worth, which pays you via PayPal, a check in the mail, or with a Target gift card, a 32GB Wi-Fi Apple iPad 3 can bring you $220. An AT&T 4G 32GB
Apple iPad mini
is valued at $245. The same models at Gazelle will fetch you $210 and $225 respectively, both in good condition. On Apple's own Reuse and Recycle website, the same iPad 3 will get you $216 while the same iPad mini can bring you $231.
Through October 27th, Microsoft has a promotion that will pay you $200 for your Apple iPad. The credit must be applied toward the purchase of a Microsoft device like the Surface tablet. The
Microsoft Surface 2
will launch October 22nd, the same day that the Apple iPad 5 and the Apple iPad mini 2 will see the light of day.
The volume of iPad trade-ins at Gazelle has been so massive this month, that the company says that October will be at the least, its largest volume month of the year for the device, or perhaps an all-time monthly record. To help promote the site, one lucky device seller on Gazelle will win $1 million dollars.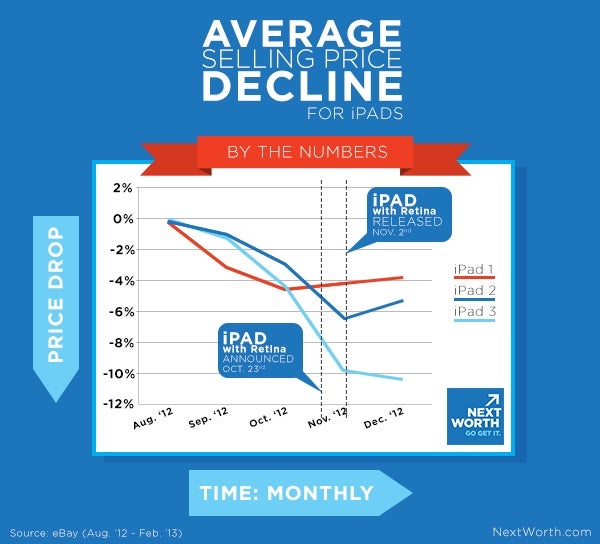 NextWorth's chart shows that the longer you wait to trade-in your iPad, the less you will receive
source:
Gazelle
,
NextWorth
via
PCMag