Apple iPad mini 2 with Retina vs iPad mini vs Note 8.0
29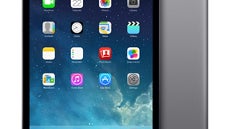 The 8" Windows tablets are only just out, so we are staging a fierce fight of the most prolific 8-inchers in the iOS and Android worlds, namely the new and old iPad mini, together with the unique
Samsung Galaxy Note 8.0
.
What's so unique about it, you'd ask? Well, for starters it wields that mighty S Pen, which is a joy to use on a tablet much more than on the phone-y Notes, and it is also very thin and light. We
found it to be an all-around great package
- fast, with good display and very handy S Pen-optimized apps, ideal to toss in a bag, or carry around all the time, and not only if you are a student.
What can the more orthodox iPad line pit against it? Well, for starters, the iPad minis are crafted out of aluminum, so there's that, and yet they are thinner and lighter than the plastic-fantastic Note 8.0, which on top of that is priced similar. The precision cut corners and the Apple logo on the back certainly exude a more premium feeling than Samsung's tablet, which strikes back with functionality thanks to its stylus silo and adjacent apps, though. When it comes to apps, Android still lags in tablet-specific ones, but on an 8-incher the regular phone ones typically scale just fine for what it's worth.
Then we arrive to the processing power, which, frankly, is more than enough on all three tablets, though the iPad mini with Retina shines with its
64-bit A7
processor, which is da bomb for marketing purposes and optimized iOS 7 stock apps, but not so much for 3rd party ones yet. It has to push that Retina panel, though, so we'll have to put it at the top of the food chain here.
Speaking of the Retina Display on the new iPad mini, we'd be remiss to miss those dense 326 pixels per inch. That's right, this is the second highest pixel density on a tablet, barring the
Kindle Fire HDX 8.9
, and the munchkin actually has the same resolution as its larger sibling the
iPad Air
. 2048 x 1536 pixels on an 8-incher is a Guiness Book of Records material right there, so if you are into density bragging rights, snatch the iPad mini with Retina immediately.
The brave old
iPad mini
doesn't have much to show for itself now but the fact that it's the lightest of them all, still with premium design and 400 000+ optimized apps behind its back, and just got to that sweet $299 tag. Which, of course, may or may not be worth it, depending on how badly you want to watch 4K movies on your 8" slate, or do some serious graphics work on that specific canvas size. Take a peak and have your pick.
Oleophobic coating, Ambient light sensor
Ambient light sensor, Proximity sensor
Oleophobic coating, Ambient light sensor
Apple A5
Samsung Exynos 4 Quad 4412
Apple A7
Dual-core, 1000 MHz, ARM Cortex-A9
Quad-core, 1600 MHz, ARM Cortex-A9
Dual-core, 1300 MHz, Cyclone, 64-bit
PowerVR SGX543MP2
Mali-400 MP4
PowerVR G6430
iOS (9.x, 8.x, 7.x, 6.1, 6.x)
Android (4.4.2, 4.2.2, 4.1.2), Samsung TouchWiz UI
iOS (12.x, 11.x, 10.x, 9.x, 8.x, 7.x)
Single camera
Single camera
Single camera
5 MP (Autofocus, BSI sensor)
5 MP (Autofocus, BSI sensor)
Aperture size: F2.4; Focal length: 33 mm
Aperture size: F2.4; Focal length: 33 mm
1920x1080 (Full HD) (30 fps)
1280x720 (HD) (30 fps)
1920x1080 (Full HD) (30 fps)
Time-lapse video, EIS, Video calling
Time-lapse video, EIS, Video calling
1.2 MP
1.3 MP
1.2 MP
1280x720 (HD)
1280x720 (HD)
7.87 x 5.30 x 0.28 inches (200 x 134.7 x 7.2 mm)
8.30 x 5.35 x 0.31 inches (210.8 x 135.9 x 7.95 mm)
7.87 x 5.30 x 0.30 inches (200 x 134.7 x 7.5 mm)
11.01 oz (312.0 g)
the

average

is 18.9 oz (540 g)
11.92 oz (338.0 g)
the

average

is 18.9 oz (540 g)
12.03 oz (341.0 g)
the

average

is 18.9 oz (540 g)
Back: Aluminum
Back: Aluminum
Recommended Stories