Apple iPad Pro goes official: 'pro' for productivity
29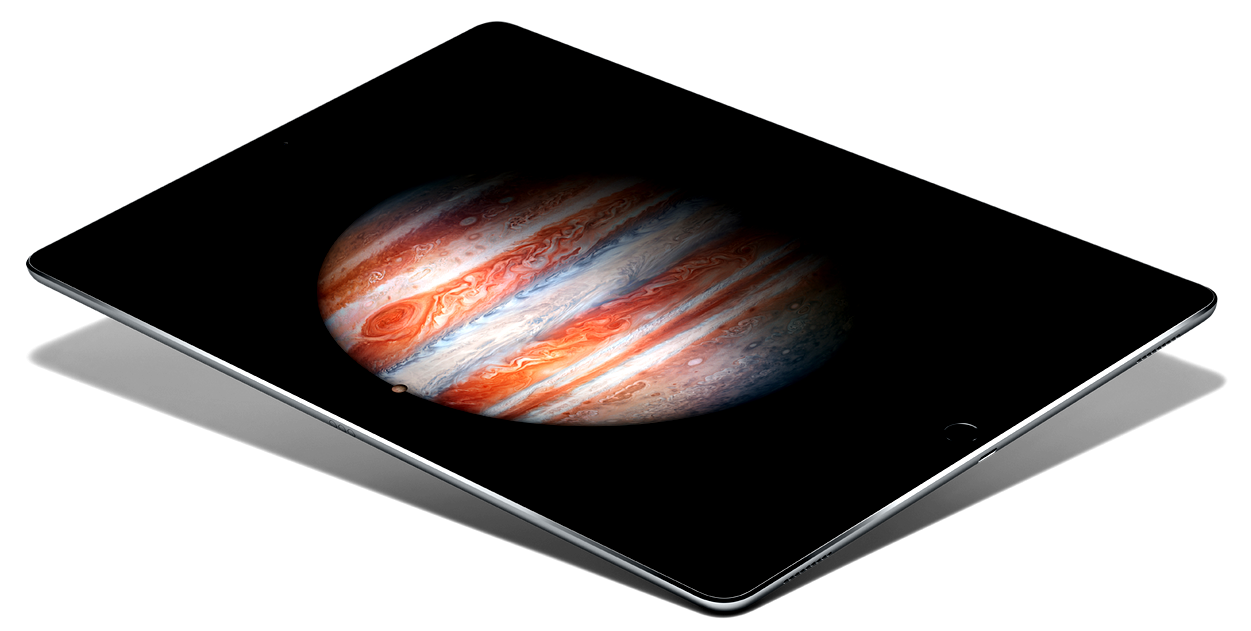 Apple has just unveiled the rumored iPad Pro: a gigantic tablet with a 12.9-inch display and full support for the multi-tasking split-screen functionality that come with iOS 9.
The first words Apple said about is that it has the
'biggest screen on an iOS device, more power and performance than any iOS device.'
Why did Apple make it? We have to use Apple marketing chief Phil Schiller's words about it:
'It can do things that a smartphone can't do, because it doesn't have to fit in your pocket, and it can do things a laptop can't do because you can hold it all day.'
And it really looks like a big iPad, with the same design style and typical Apple look.
Here are the quick specs highlights of the iPad Pro:
Display
: 12.9" with a resolution of 2732 x 2048 pixels
Thickness
: 6.9mm (vs 6.1mm for iPad Air 2)
Weight
: 1.57lb (vs 1.54 for the original iPad)
Apple A9X
The brains of the new iPad Pro is the Apple A9X system chip.
This is Apple's third-gen 64-bit chip with double the memory bandwidth, 2x faster storage, and it is 1.8x faster than A8X. That makes the chip faster than 80% of the portable PCs shipped recently, while in terms of GPU, it is 90% faster than most portable PCs. In practical terms, Apple mentioned that it can handle 3 streams of 4K video edit, truly impressive.
Keyboard with new magnetic 'Smart Connector'

A big part of the new iPad Pro is its physical keyboard and that's why Apple is introducing its own keyboard solution specifically designed for the new 12.9" Pro tablet.
The new iPad Pro has also got a new magnetic connector on the side called the 'Smart Connector'. This new connector is used to easily connect to the keyboard and provide it with both power and data.
The keyboard is sold separately for $169.
Apple Pencil
The creative types will be happy to see that the iPad Pro supports the brand new Apple Pencil (a separate purchase that costs $99).
This is a special stylus, though: Apple has bundled in responsive sensors in the tip of Pencil so that it can sense pressure, tilt, and stroke, all contributing to a very comfortable experience for artists. You can also easily plug the Pencil in the Lightning port of the iPad Pro.
Productivity: Microsoft Office is fully optimized for iPad Pro
The iPad Pro is really dedicated to productivity and it shows: after all, it's not that often that you see Apple invite Microsoft to demo its Office for an Apple product. Yet this did happen with the iPad Pro. Microsoft has worked closely with Apple to provide great support for the Office suite - including Word, Excel and PowerPoint.
Creative uses: Adobe partners for in-depth integration with iPad Pro
Eric Snowden of Adobe went up on stage to demo the tight integration of Adobe products workflow with the iPad Pro and all the benefits of having an advanced stylus such as the Apple Pencil.
The on-stage demo showed how you can use the tip of the Pencil sideways to add more water while drawing, or directly press to add more hue, for instance.
Apple iPad Pro price and release date
The iPad Pro seems to be running a bit late and won't be available in the usual fast schedule for other Apple products - Apple has provided a vague November release date, and this coincides with earlier rumors that have mentioned limited supply even when the new tablet arrives.
With all this in mind, you'd be wondering: how much does it cost? Here is a price breakdown for the new iPad Pro:
32GB iPad Pro with Wi-Fi: $799
128GB iPad Pro with Wi-Fi: $949
128GB iPad Pro with Wi-Fi and 4G LTE: $1079