Apple iPad Air 2 vs Google Nexus 9 vs Samsung Galaxy Note 10.1 (2014 edition): specs comparison clash
18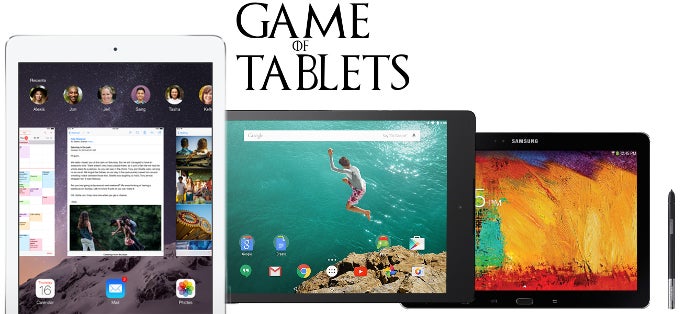 Apple's new iPad, the
iPad Air 2
, is here and it's destined to clash the surplus of high-end Android and Windows tablets that have been around for some time now. The first iPad defined the tablet category back in 2010 and its newest generation seems to be fiercer than ever. Sporting the 64-bit A8X SoC, the iPad Air 2 is an improved version of Apple's last year flagship tablet, which will appeal to those iFans that want to possess the latest and greatest piece of tech that comes straight out of Cupertino.
Although we can choose among many tablets, we decided to pit the new iPad Air against Google's newest,
hot-off-the-oven Nexus 9
slate in a heated specs battle. We've also thrown in an S Pen-toting
Samsung Galaxy Note 10.1 (2014 Edition)
for a good multitasking measure.
On paper, the differences will be drastic, as each and every tablet of this trio has its own strong points and reasons to be the top-ranking slate. Such comparisons, however, will have to wait a little, and now we are purely comparing the specs sheets of the devices. It won't be too far-fetched to say that the iPad Air 2, the
Google Nexus 9
, and the
Samsung Galaxy Note 10.1 (2014 edition)
are among the best tablets at the moment. Yes, the Nexus 9 will be taking names in the hardware department, but let's not forget that it is not the sole defining point of a good tablet.
Which one of these reigns supreme over the rest? Let' check out the specs game of the tablets right below!
Super Clear LCD
IPS LCD
IPS LCD
Ambient light sensor
Scratch-resistant glass, Ambient light sensor
Oleophobic coating, Ambient light sensor
Qualcomm Snapdragon 800 MSM8974
NVIDIA Tegra K1 (28 nm)
Apple A8X
Quad-core, 2300 MHz, Krait 400
Dual-core, 2300 MHz, Denver
Triple-core, 1500 MHz, Cyclone, 64-bit
Adreno 330
Kepler
PowerVR GXA6850
Android (4.4.2, 4.3), Samsung TouchWiz UI
Android (7.1 Nougat, 7.0 Nougat, 5.0 Lollipop)
iOS (13.x, 12.x, 11.x, 10.x, 9.x, 8.x)
30.0 days (720 hours)
the

average

is 0 days (0 h)
43.00 hours
the

average

is 0 h (0 min)
Single camera
Single camera
Single camera
8 MP (Autofocus, BSI sensor)
8 MP (Autofocus, BSI sensor)
8 MP (Autofocus, BSI sensor)
Aperture size: F2.4; Focal length: 29.2 mm; Sensor size: 1/4"; Pixel size: 1.12 μm
Aperture size: F2.4; Focal length: 31 mm
1920x1080 (Full HD)
1920x1080 (Full HD) (30 fps)
1920x1080 (Full HD) (30 fps), 1280x720 (HD) (120 fps)
Time-lapse video, EIS, Video calling
2 MP
1.6 MP
1.2 MP
1280x720 (HD)
1280x720 (HD) (30 fps)
9.57 x 6.75 x 0.31 inches (243.1 x 171.4 x 7.9 mm)
8.99 x 6.05 x 0.31 inches (228.25 x 153.68 x 7.95 mm)
9.45 x 6.67 x 0.24 inches (240 x 169.5 x 6.1 mm)
19.29 oz (547.0 g)
the

average

is 16.3 oz (464 g)
15.38 oz (436.0 g)
the

average

is 16.3 oz (464 g)
15.41 oz (437.0 g)
the

average

is 16.3 oz (464 g)
Back: Plastic
Back: Aluminum