Apple iPad Air 2 vs Apple iPad Air vs Apple iPad 4: specs comparison
6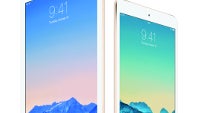 They might not have grown in size, but Apple's hot-out-of-the-oven new iPads are surely top notch when it comes to internal hardware prowess (compared to their predecessors, that is). Both tablets have been refreshed with an Apple A8X chipset, a custom version of the
64-bit Apple A8 SoC
found inside the Apple iPhone 6 and iPhone 6 Plus, which is a first for Apple and cements the future-proofness of its brand new tablets.
Frankly said, the improvements are not many, but they are mostly spot on. As we said, they sport most of the bells and whistles that the latest two generations of iPhones had in store, such as the Touch ID fingerprint sensor under the home button, support for Apple's Pay on-the-move payment system, and several other novelties. Then again, are these improvements enough to deem the new iPad Air vastly superior to its predecessor? Or the new slate is nothing but a minor improvement over last year's
Apple iPad Air
?
We decided to pit the new iPad Air 2 against its prequel and see what's happening specs-wise. We've also thrown in the older
Apple iPad 4
for a good measure as well.
Oleophobic coating, Ambient light sensor
Oleophobic coating, Ambient light sensor
Oleophobic coating, Ambient light sensor
Apple A6X
Apple A7
Apple A8X
Dual-core, 1400 MHz, Cyclone, 64-bit
Triple-core, 1500 MHz, Cyclone, 64-bit
PowerVR SGX554
PowerVR G6430
PowerVR GXA6850
iOS (10.x, 9.x, 8.x, 7.x, 6.1, 6.x)
iOS (12.x, 11.x, 10.x, 9.x, 8.x, 7.x)
iOS (13.x, 12.x, 11.x, 10.x, 9.x, 8.x)
Single camera
Single camera
Single camera
5 MP (Autofocus, BSI sensor)
5 MP (Autofocus, BSI sensor)
8 MP (Autofocus, BSI sensor)
Aperture size: F2.4
Aperture size: F2.4; Focal length: 33 mm
Aperture size: F2.4; Focal length: 31 mm
1920x1080 (Full HD) (30 fps)
1920x1080 (Full HD) (30 fps)
1920x1080 (Full HD) (30 fps), 1280x720 (HD) (120 fps)
EIS
Time-lapse video, EIS, Video calling
Time-lapse video, EIS, Video calling
1.2 MP
1.2 MP
1.2 MP
1280x720 (HD)
1280x720 (HD) (30 fps)
1280x720 (HD) (30 fps)
9.50 x 7.31 x 0.37 inches (241.2 x 185.7 x 9.4 mm)
9.45 x 6.67 x 0.30 inches (240 x 169.5 x 7.5 mm)
9.45 x 6.67 x 0.24 inches (240 x 169.5 x 6.1 mm)
23.35 oz (662.0 g)
the

average

is 18.9 oz (540 g)
16.86 oz (478.0 g)
the

average

is 18.9 oz (540 g)
15.41 oz (437.0 g)
the

average

is 18.9 oz (540 g)
Back: Aluminum
Back: Aluminum
Recommended Stories