Apple granted patent for foldable/bendable iPhone
25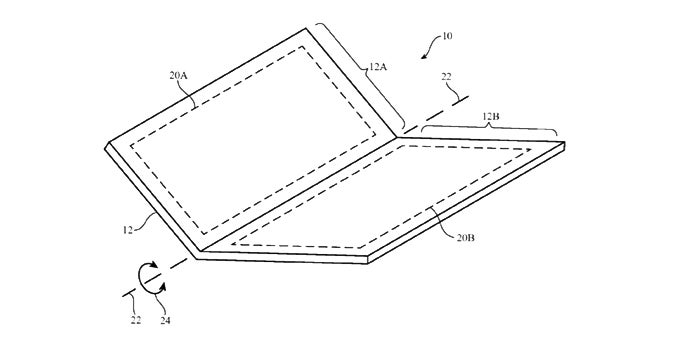 Apple has been granted a patent for a foldable and/or bendable iPhone made from advanced carbon nanotube structures. Recently uncovered by Patently Apple, the patent application dates back to 2014 and describes what looks like a flexibledevice with a clam shell design. Another patent for a solely bendable phone filed back in 2013, serves as further evidence that the Cupertino giant has had continuous interest in this concept over the last couple of years.
The patent filed in 2014 uses the iPhone moniker explicitly, instead of the generic "electronic device" or derivatives of it, and contains illustrations of both the familiar iPhone design (not pictured), albeit in very simplified form, as well as concept drawings for a new, foldable device that may also have a bendable display.
The documents also offer some details regarding the possible materials of which this iPhone of the future could be made, mentioning ceramic, glass, fiber, aluminum, and plastic as possible contenders, but explicitly names carbon nanotubes as the material that would make the foldable design possible:

Conductive carbon nanotube paths can form signal paths that are flexible and resistant to cracking. The carbon nanotube structures may be incorporated into signal cables such as flexible printed circuit cables, rigid printed circuit boards, printed circuits that include rigid portions with flexible tails [...], portions of display structures, portions of touch sensors such as capacitive touch sensor arrays for displays or track pads, camera structures, antenna structures, housing structures, internal device structures, electrical components, substrates, brackets, housing walls, other structures, or combinations of these structures.
These patents are proof that Apple is showing some interest in bendable/foldable devices, but should not be taken as a clear indication that the next iPhone, or any future Apple phone for that matter, would sport this type of design.
Other major phone makers, such as LG and Apple's main rival Samsung, have also expressed interest in foldable smartphones in the past year, with
rumors
claiming
that next year will see the technology used in mass-produced mobile devices.
Read more: