Apple granted patents for noise canceling earbuds, liquid resistant speaker
13
The U.S. Patent and Trademark Office has granted Apple a patent for a "Liquid resistant acoustic device" (patent No. 9,363,589) and a second patent for a "System and method of mixing accelerometer and microphone signals to improve voice quality in a mobile device" that would rely on vibrations in the user's vocal cords and head (patent No. 9,363,596).
The first patent describes a method of waterproofing acoustic ports with a mesh "umbrella". This is achieved by separating apertures in the device's housing with an umbrella section and coupling them with the acoustic port in a way that the umbrella would cover the port as well, thus allowing for any liquids entering the device to be directed away from the mesh. This would reduce the pressure from the liquid on the mesh and mitigate any potential damage to the internal acoustic device. Apple has taken a similar approach for weatherproofing the Apple Watch, but this patent might be the first step toward a water resistant iPhone.
A cross section of an example system (in this case a tablet) that includes an acoustic device 105 that may be coupled to the electronic device via a mechanism such as o-ring 109. The acoustic port 106 is covered my a mesh 107 that resists entry of liquid and other materials into the acoustic device. The umbrella housing section 103 may be configured in a way to cover the acoustic port.
The other patent calls for a headset that would rely on vibration in the user's vocal cords and vibrations in bone and tissue in the user's head to employ a new method of noise cancellation and to improve voice quality. The headset would rely on an accelerometer to detect the subtle vibrations, as well as an array of microphones, the output of which would then be ran through a spectral mixer and used for voice quality improvement and echo cancellation.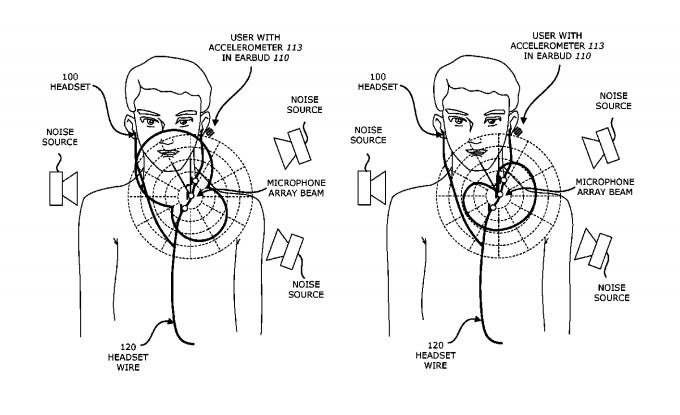 The patents were filed for in 2014 and 2013 respectively but were granted only Tuesday by the U.S Patent and Trademark Office. What Apple has in store with them is another story entirely. Let's just hope that we'll see a smartphone embodying Apple's trademark stylish design and some much needed ruggedness.
Source:
USPTO
via
Apple Insider