Apple exploring the prospect of an iPad mini to rival Amazon's Kindle Fire in the future?
55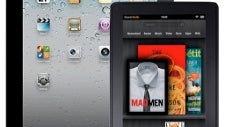 Apple could be exploring the possibility of launching a
"mini" edition of its iPad
tablet in response to the Amazon Kindle Fire. At least that's what Ticonderoga Securities analyst Brian White wrote after his trip to China and Taiwan, where he met with component suppliers. The "mini" in this case refers more to the price segment rather than the screen size which may or may not be smaller.
This would reportedly allow Apple to enter the
"more price sensitive consumer segment,"
while effectively blocking Amazon's attempt to rival it in the tablet space.
"We believe this lower priced iPad could be priced in the mid-to-high-$200 range. We expect this will be followed by a much more powerful, feature rich standard-priced iPad 3 in (the second quarter of 2012),"
White shared in a note to investors.
Now, we have previously heard about Apple launching an iPad this fall, or at least earlier than its yearly spring routine, but there were little facts to back up such talk. Let us also remind us, that numerous rumors pointed out that Cupertino is readying two iPhones for launch, one of which was said to be more affordable, but again the reality has failed to match it, partly creating some sense of a disappointment.
There are two more reasons to doubt this. First, Apple has never been a company driven by what its rivals do. Take the iPhone 4S as the most obvious example - even though everyone was going with 4-inch and bigger screens, Apple kept their 3.5-incher. Second of all, the Amazon Kindle Fire hasn't exactly proven successful. It did indeed generate a lot of hype, but a) it was carefully demonstrated, not given to reviewers to play with it, which is a strong signal, responsiveness might still be worked on, b) it's still more than a month away from an official launch.
So bottomline from this seems to be not to get your hopes too high. There's plenty to be seen in the near future, including a new
bigger-screened slate from Amazon
, if we are to believe all rumors. Now, how would you rate the "mini" iPad on your own rumor scale - credible or not?