Apple developing a game controller for the iPad?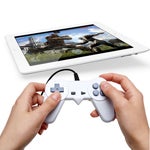 According to a report on Anandtech, Apple has an internal development project to create a game controller for its iOS devices (presumably the iPad would be the targeted device). Writing about the current situation, where Android supports gaming devices while Apple has not, Anand Shimpi indicated:
"I
know of an internal Apple project to bring a physical controller to market, but whether or not it will ever see the light of day remains to be seen. As smartphones and tablets come close to equalling (sic) the performance of current game consoles, I feel like the controller problem must be addressed.
"
We have no reason to doubt Anand's sources, but even he says we may never see this product come to fruition. Apple has been steadfast in touting the advantages of touch-only controls on tablets, and in the end they may prefer to stick to their guns. There are, after all, already
3rd party controllers
available for die-hard fans. Perhaps it will depend on Android itself – if gamers start migrating to Android tablets in years to come because better support of game controllers Apple would have a competitive controller if/when the market dictates.
There's at least one other possibility – with a rumored Apple television in the works, the need for a controller might be inevitable if gaming is to be extended to the permanent iOS device in your living room. Gaming graphics could also advance much more rapidly on an iTV if it were to catch on - battery and size constraints
largely disappear
compared to mobile products, and Apple could elect to put even larger chips than the A5X in a TV.
Would you be interested in a game controller for your iPad or iPhone? Would you be more (or less) interested in one for an iOS-powered TV? Sound off below!
source:
Anandtech
via
The Verge