Apple closes at $450; blame the analysts?
55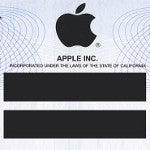 Ever since Apple traded at $550,
we pointed out the deteriorating technical condition of the stock
(heck, we also pointed out the bullish "Island Reversal" on RIM $2 to $3 dollars lower), did Wall Street analysts listen? No! That is because they are trained in fundamental analysis which, as we pointed out before, requires them to waste time on researching how many Apple iPhones Apple will sell in a given quarter, guess what the margin will be, and estimate earnings . A Technical Analyst uses charts and once Apple
closed under both the 50 and 200 day moving average
as we showed you, it was lights out for the stock.
dump the stock in advance of this decline
, which actually started on September 21st which was the day the
Apple iPhone 5
launched. On that day, Apple's shares peaked at $705. Buy on the rumor, sell on the news anyone?
According to Forbes, Raymond James' Tavis McCourt forecast the $13.81 EPS number precisely. Did he tell clients to sell early? No. The best overall performance came from an analyst well known to PhoneArena readers, Sterne Agee's Shaw Wu. According to Forbes' chart, Wu was off only by only .55% in predicting Apple's revenue for its fiscal first quarter, and was off by 3.90% in earnings. Gene Munster finished tenth, off by 2.51% and 5.43% respectively. Who finished last? Nicolae Mihalache of Traderhood whose revenue forecast was off by 20.13% and missed earnings by 15.82%
But here is the fallacy about the whole thing. As we pointed out, an analyst can forecast Apple's earnings and revenue down to the
exact cent
. If he did not get his clients out of the stock prior to the drop, what good is the forecast? Traders and investors profit from stock movement. Anything else is like a carnival game where the "carny" guesses your weight.
source:
Fortune