Apple claims the App Store has created more than 600,000 jobs in Europe
12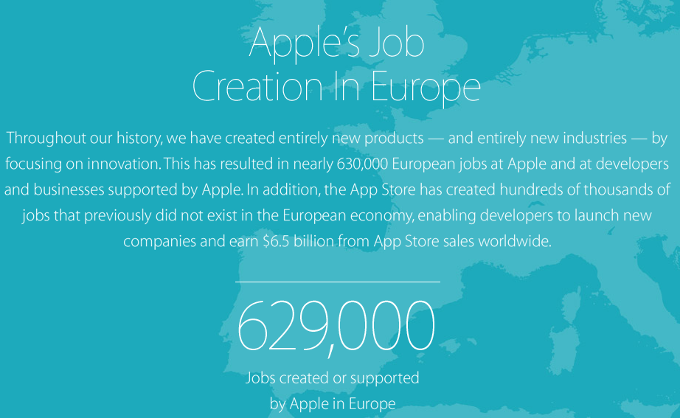 Today, Apple boasted that it has contributed to the creation of 629,000 developer jobs in Europe, mainly focused on the so-called "app economy". A tad under half a million jobs– 497,000 – might be credited to the Apple App Store itself, 132,000 positions have been created thanks to Apple's support, while the remaining tally of 16,000 Europeans from 19 countries are being directly employed by Apple. In addition to that impressive number, Apple's growth on the Old Continent has spurred the creation of additional 116,000 jobs.
Apple also claims that Europe-based developers have account for $6.5 billion from its $20-billion global earnings. While this is impressive on its own (after all, Apple is
still the top-earner of app revenue
), Cupertino forecasts that the European Union's GDP will be treated to a $16.5-billion cash influx by the end of 2014, making Apple one of the major contributors to the local economy.
"This job growth for coders, developers, entrepreneurs, and others would not have existed without Apple's innovation and technology,"
Cupertino said.
"We also provide app developers with the tools and distribution they need to bring their best ideas to hundreds of millions of iOS customers worldwide through the incredible App Store."
Cupertino revealed that it has 101 stores in 8 European countries, each of which employs an average of 100 workers, which means that around 10,000 people work in Apple's brick and mortar stores on the continent. Oh, and Apple said that there are currently 21,000 free positions for iOS app developers in Europe, so if you are looking for a new job and have the necessary qualifications, give your luck a try!
source:
Apple
via
AppleInsider