Android apps surpass iOS apps in downloads, but not revenue, for the second quarter
21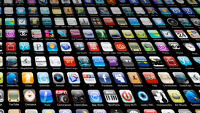 App Annie has digested second quarter data for Android Apps and iOS apps, and has discovered a few things. For the three months ended in June, 60% more Android apps were downloaded than the number downloaded in the previous quarter. For iOS apps, there was a 45% increase in the number of apps downloaded for the quarter. Overall, for the quarter, there were about 150 million Android apps downloaded as opposed to 100 million iOS apps.
Revenue, though, was all iOS. Even though there were 50 million more Android apps downloaded in the second quarter, in terms of revenue for the period, iOS had over $100 million, while Android had about $60 million. For iOS, that was a 45% gain from Q1, and a 30% sequential gain for Android.
Low-priced Android devices are making a mark in emerging markets. India went up two spots from fifth place to third place in the number of Android apps downloaded during Q2, trailing only the U.S. and Brazil. For iOS apps, Japan, the U.S., South Korea and Germany remained in the top four spots from the first quarter. Taiwan rose from sixth to fifth.
Check out the categories list and you'll see that iOS and Android users are downloading apps in the same order of popularity, with both platforms favoring games, tools, communications, entertainment and social apps. Will we see any changes in the third quarter? Stay tuned!
source:
AppAnnie