Apple brings back the iPhone SE with lower pricing
20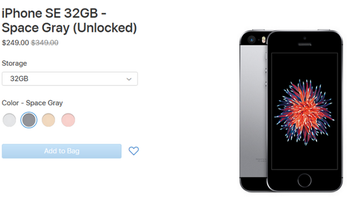 Spotted by Mac Rumors
, the phones are being offered by Apple in new and unopened boxes.
The iPhone SE is available with 32GB of storage for $249
, $100 off the price that Apple was selling the model for before it was discontinued.
The 128GB model is priced at $299
, a $150 haircut from its last official price. The specs remain the same, which means that the device caries a 4-inch display (640 x 1136 resolution), and is powered by the Apple A9 chipset. The handset carries a single 12MP camera in back, and has a front-facing FaceTime camera weighing in at 1.2MP.
If you don't mind a refurbished model, you can find the 32GB iPhone SE
for only $69.99 for Walmart
. A new 32GB iPhone SE, also for Straight Talk,
is priced at $139
. Gazelle has sold out of its stock of refurbished iPhone SE units.
Since Apple is looking to get rid of unsold units, we could see the phone remain available from the company until most of the available units are spoken for.