Apple bosses interviewed: 'We're not in the junk business... new is easy, right is hard'
99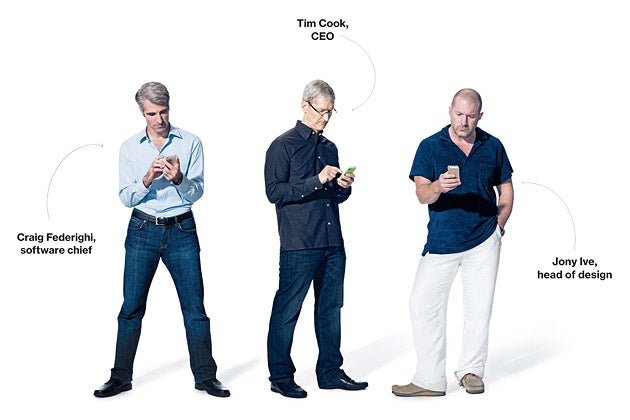 In an extremely rare complete interview session, the CEO Tim Cook, alongside
lead designer Jony Ive
, and the
newly promoted software chief Craig Federighi
, the who-is-who of Apple, sat down to talk shop with Bloomberg reporters.
There has been a lot coming from Apple these days, as you can see from the increase in our Cupertino-centric posts, not only because of the new
iPhone 5s
and
5c
, but also because of the genuine shift in strategy they represent, along with the iOS 7 overhaul.
On iPhone 5c pricing
First things first - to dispose of the elephant in the room, Tim Cook answered on why this high price for the 5c, with the following comment:
We never had an objective to sell a low-cost phone. Our primary objective is to sell a great phone and provide a great experience, and we figured out a way to do it at a lower cost.... There's always a large junk part of the market. We're not in the junk business...
The upper end of the industry justifies its higher prices with greater value. There's a segment of the market that really wants a product that does a lot for them, and I want to compete like crazy for those customers. I'm not going to lose sleep over that other market, because it's just not who we are. Fortunately, both of these markets are so big, and there's so many people that care and want a great experience from their phone or their tablet, that Apple can have a really good business.
On Apple's stock price
Of course, analysts and pundits didn't like the price of iPhone 5c, which brought the stock down quite a bit since the announcement, but Tim Cook again reiterated Apple's never been about market share, but the experience it can offer with its gear. Granted, no matter how many iPhone 5c handsets it manages to sell, it will do so at margins that are certainly higher than even those from the iPhone 5s, so Wall Street shouldn't have been quick to jump the gun on the sell trigger, is apparently what Tim Cook is thinking about Apple's stock price: "
I don't feel euphoric on the up, and I don't slit my wrists when it goes down. I have ridden the roller coaster too many times for that
."
On true collaboration
Another tidbit comes to light from the interview - that CEO Tim Cook has bet the house on the collaboration between Jony Ive and Craig Federighi, both undoubtedly brilliant at what they do. They apparently spent a great deal of time together just to perfect the blurred background effect in iOS 7, reminding of Steve Jobs' nutty attention to detail: "
I think, very often, you can't call out by attribute or name areas of value
," says Jone Ive about what people need and notice when using a gadget. "
But I do think that we sense when somebody has cared. And one thing that is incontrovertible is how much we've cared
."
Jony Ive also added this little nugget about collaboration: "
Successful collaboration, in your mind, could be that your opinion is the most valuable and becomes the prevailing sort of direction. That's not collaborating
." Geez, we wonder who he might be referring to here.
On innovation
As for that whole notion that Apple has stopped innovating, while Samsung and the rest of the Android gang, plus Nokia's Lumias, are setting the pace in that respect, both had something to say that reveals once again Apple's different philosophy on the matter. Jony Ive chimed in, saying that they don't just add new stuff for the sake of a long feature list: "
there are so many problems that had to be solved to enable one big idea
," he said referring to the unique
Touch ID
fingerprint tech in the iPhone 5s home button. "
We didn't start opportunistically with 10 bits of technology that we could try to find a use for to add to our features list
." Again, the Apple's lead designer is mincing words a bit, but it's pretty clear which company he refers to here.
As for Mr Federighi? He's even blunter: "
New? New is easy. Right is hard
." Ultimately the market will be the true judge of this strategy, and whether the iPhone 5c gamble will pay off, but do you agree in principle with the philosophy laid out by the top three Apple men here?